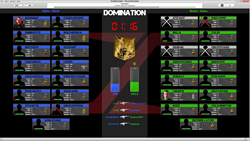 We're excited to have some of the most popular laser tag fields on earth joining the iCOMBAT family
Whitewater, WI (PRWEB) January 09, 2015
iCOMBAT, the world-wide leader in laser tag equipment manufacturing, has big plans for their business management software in 2015. The software, consisting of the iCOMBAT Engine (ICE) for game and equipment management, and the Barracks, an online facility and player management suite, is slated for huge upgrades this year and has already set high expectations.
Laser tag facilities that use iCOMBAT equipment can opt for one of the paid licenses, each with different features. They can download the ICE software and run basic games for free, but special missions, use of props, and ranked game play all require a license. The Barracks (online) is where these operators can create their license accounts, manage their marketing and finances, and set up reservations and bookings.
The Barracks also serves as the player community. Players can create memberships for use at any licensed facility, make reservations, track their statistics, and view the leaderboards – just like in popular video games. The achievements they've earned can also be viewed here.
In just shy of 18 months, over 50,000 members have created accounts at licensed iCOMBAT facilities. That's big news for iCOMBAT facilities. More laser tag facilities than ever before are switching to the iCOMBAT system and gaining the benefits of the software. "We're excited to have some of the most popular laser tag fields on earth joining the iCOMBAT family," said President Rick Jensen.
The tools iCOMBAT software gives operators are truly innovative and helpful. Coming this year is a complete point-of-sale system that integrates with everything else. Operators will not have to purchase separate software any longer. Multiple language support is also slated for release, allowing iCOMBAT equipment and software to be used around the world with ease.