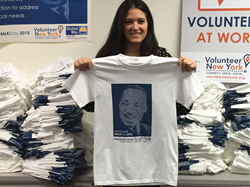 Tarrytown, N.Y. (PRWEB) January 08, 2015
Volunteer New York! has teamed up with United Ways in Westchester, Putnam and Rockland to offer over 30 service opportunities in honor of the 2015 Dr. Martin Luther King Jr. National Day of Service. The volunteer opportunities that will take place from January 17th-18th will impact and support local causes, such as: Arts & Culture; Children & Youth Education; Civic & Community; Environment; Family Services; Health & Wellness; Hunger & Homelessness; and, Senior services.
"Volunteering is such a great way to honor Dr. King's legacy," says Alana Sweeny, United Way of Westchester and Putnam President and CEO. "We are delighted to join with Volunteer New York! for MLK day and promoting the importance of strong mentors for our children."
Why should individuals serve on their day off? "MLK Day is a day we can choose to come together as volunteers, inspired by a message of hope and equality, and enact positive change by addressing local needs. We welcome all volunteers to share this dream with us," says Volunteer New York! Executive Director, Alisa H. Kesten.
Detailed volunteer signup information is at volunteernewyork.org/MLK. This year there are a number of projects that volunteers can do from home, as well as throughout Westchester, Rockland, and Putnam. Many projects are family-friendly and embody the message of Dr. Martin Luther King Jr., like the Share the Dream Collage project that focuses on educating youth through a fun and collaborative hands-on activity. Or the Share the Dream Cake project that can be done from home, and encourages anyone to bake a cake with a 'confectionary' message of hope written on it and donate it to a local community organization, like a homeless shelter or police department.
"Everyone who volunteers is serving for a cause, and this year we made it even easier to choose volunteer projects by impact areas as well as location on our signup page," says Jeanette Gisbert, Volunteer New York! Senior Director of Volunteer and Corporate Engagement.
#MLKDay Service Projects taking place Jan. 17-18th:

The Sleeping Bag Project (Yonkers)– Create sleeping bags for the homeless.
FAFSA Workshop with Latino U College Access, Inc. (White Plains) – Help students secure financial aid by assisting with the complicated application form.
2-1-1 Training (White Plains) – Be prepared to help after a disaster by being pre-trained on United Way of Westchester and Putnam's 2-1-1 phone system.
Reading to End Racism Training Program (Yonkers) – Use literature to end discrimination and bullying.
Science Barge Cleanup with Groundwork Hudson Valley (Yonkers) – Help beautify a floating sustainable farm in Yonkers.
Create Welcome Bags for My Sisters' Place (Yonkers) – Support their mission to end domestic violence.
Furniture Sharehouse Volunteer (White Plains) – Organize furniture and learn about local income disparity.
Arts & Crafts at Burke Rehabilitation (White Plains) – Help patients strengthen their fine-motor skills.
CPR Training (Spring Valley) – Learn a life-saving skill with Worldwide Community First Responder, Inc.
Pack Cars with Food Deliveries (Pleasantville) – Help Hillside Food Outreach fight hunger by providing food to over 2,100 individuals.
Family Volunteer Project to Help the Homeless (Nyack) – Help the Dominican College Alumni Outreach Committee prepare for a Midnight Run.
Collect and Sort Donated Food with the Mount Kisco Interfaith Food Pantry (Mount Kisco) – A great family opportunity to address hunger in our community head-on.
Family Service Project to Help the Homeless (New Rochelle) – Learn about homelessness as a family from Westhab, Inc. and then prepare essentials for children who are staying in shelters.
Friendly Visits with Seniors at Somers Nursing Home (Somers) – A great family project for engaging seniors.
Intergenerational Project at Atria Rye Brook (Rye Brook) – Create literacy aids for Head Start students with seniors.
For the full list of over 30 active projects which will take place in: Congers, Mount Kisco, New Rochelle, Nyack, Pleasantville, Port Chester, Rye, Rye Brook, Scardsale, Somers, Spring Valley, Stony Point, Valhalla, White Plains, Yonkers, and Yorktown Heights, please visit: http://volunteernewyork.org/MLK
This year's project partners represent a diverse group of nonprofits whose missions support a range of impact areas, such as: The Mount Kisco Interfaith Food Pantry, Together Our Unity Can Heal, Inc. (TOUCH), The Hudson Valley Singers, Latino U College Access, Inc., United Way of Westchester and Putnam, Franklin D. Roosevelt State Park, Greenburgh Nature Center, Groundwork Hudson Valley, Rye Nature Center, Family Services of Westchester's The Sharing Shelf, My Sisters' Place, Ronald McDonald House of the Greater Hudson Valley, Westchester Jewish Community Services' Kids Kloset, Furniture Sharehouse, Burke Rehabilitation Hospital, Worldwide Community First Responder, Inc., Hillside Food Outreach, Dominican College Alumni Outreach Committee (Midnight Run), Westhab, Inc., Somers Manor Nursing Home, Atria Rye Brook, Rockland County YMCA, Ability Beyond, and YWCA of Boulder, Colorado.
Special thanks are due to groups from YPIE Youth Leadership Council, AmeriCorps, Con Edison, M&T Bank, Audubon, Family Services of Westchester's Fathers Count, Westchester County Association of Young Professionals, World Mission Society of God, Enterprise Holidings, and Balancing Life's Issues, as well as The New Rochelle Library, The Yonkers Riverfront Library, and The Grinton I. Will Library for their commitment to volunteering and support.
The Importance of National Mentoring Month:
In remembering Rev. Dr. Martin Luther King Jr. it is also important to remember his prolific role as a mentor in his community and to his followers. "We can't forget that January is also National Mentoring Month and what that means in relation to Dr. King, who set such a strong example, and what we can learn from that. We need more mentors and tutors in our community in order to ensure the next generation of great leaders," said Alisa Kesten.
Recently, United Way of Westchester and Putnam and Volunteer New York! announced that they are looking to recruit 100 new tutors and mentors throughout Westchester and Putnam counties as part of United Way's national push to recruit one million volunteers across the country. Locally, volunteers are most needed in the communities of Mount Vernon, Yonkers, Peekskill, and Port Chester.
Young students will benefit from mentors and tutors through United Way's SmartStart program, an initiative which addresses growing concerns for at-risk youth who are not fully engaged in school. The program, now in its fifth year, helps children excel in school by providing truancy intervention, academic support, tutoring, mentoring, and after-school programs.
To search for mentoring, tutoring, and reading volunteer opportunities at sites throughout Westchester and Putnam, visit http://www.uwwp.org/smartstart or http://www.volunteernewyork.org/mentor. For more information, call United Way at 914-997-6700 or Volunteer New York! at 914-948-4452.
About United Way of Westchester and Putnam:
For the past 52 years, United Way of Westchester and Putnam has operated with the fundamental belief that all people deserve a quality education, enough income to support a family, and opportunities for a healthy lifestyle. United Way works with agency partners, government, businesses and community leaders to solve problems that are too complex for any one entity alone. All contributions go toward improving the education, income, and health of the children, youth and families throughout Westchester and Putnam. United Way's Hudson Valley Region 2-1-1, covering Westchester and Putnam as well as Dutchess, Orange, Rockland, Sullivan and Ulster counties, answers up to 500 calls and 1,000 online inquiries per day ranging from tax, heating, and mortgage questions to childcare, basic needs, natural disaster and crisis calls. United Way of Westchester and Putnam is at 336 Central Park Ave., White Plains, NY 10606. They can be reached at 914-997-6700 or by visiting http://www.uwwp.org. Follow United Way on Facebook (http://www.facebook.com/UnitedWayWP) and Twitter (@UnitedWayWP) for the latest news and updates.
About Volunteer New York!:
The core mission of Volunteer New York! is to inspire, mobilize, and equip individuals and groups to take positive action to address pressing challenges, support nonprofits and strengthen the quality of life in our community. For the past 65 years the organization has encouraged adults to serve, youth to build character, families to bond, young professionals to lead, mature adults to share their wisdom and businesses to engage through volunteerism. By connecting individuals to nonprofit organizations as well as through organized volunteer projects, Volunteer New York! helps people take action to strengthen the quality of life in Westchester, Rockland and Putnam. Over 240,000 hours of service were devoted last year to 500 nonprofits at a value of over $7.2 million.
Volunteer New York! is proud to have United Way of Westchester and Putnam as a strategic impact partner. Corporate Champions who strongly support the mission of Volunteer New York! are New York Life, MasterCard, TD Charitable Foundation, PepsiCo, IBM, Bunge, Con Edison, Xylem, Morgan Stanley, Robison Oil Company, M&T Bank, Scent 2 Market, Journal News Media Group, Mack-Cali Reality, The Dannon Company, Reader's Digest Association, Regeneron, The Rollins Agency Inc., Chubb, Pentegra, O'Connor Davies, LLP, and RPW Group. Ongoing support is provided by Westchester County, the Corporation for National and Community Service and the New York State Commission on National and Community Service.
Find a local volunteer opportunity at: http://www.volunteernewyork.org
Follow us on Twitter: http://twitter.com/volunteerNYnow
Connect with us on Facebook: http://facebook.com/volunteerNYnow
Follow us on Instagram: http://instagram.com/volunteerNYnow
# # #