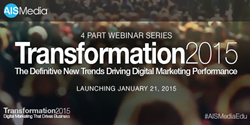 ATLANTA, GEORGIA (PRWEB) January 08, 2015
AIS Media, Inc. announced today the launch of its newest webinar series, "Digital Marketing Transformation for 2015." Starting this month the four part webinar event will show how digital innovation is transforming and impacting decisions in all areas of business, from operations to customer service. 2015 is the year to jumpstart marketing transformation with a performance-driven digital strategy for site design, content, email, search and social marketing.
AIS Media is pleased to offer this webinar series free of charge. Topics will include:

The Top Digital Marketing Trends in 2015: Wed., January 21, 2015 | 11:00 am (EST)
The New Content Marketing Blueprint: Wed., February 11, 2015 | 11:00 am (EST)
Mobile First Digital Marketing: Wed., March 4, 2015 | 11:00 am (EST)
The Shift for Driving SEO Success: Wed., March 25, 2015 | 11:00 am (EST)
Details & registration: http://www.aismedia.com/digital-marketing-transformation-2015/
See how AIS Media's approach will add value to any company's marketing strategy in 2015. Gain insights on unique digital challenges marketing professionals face, how to accelerate the customer journey and amplify the performance of digital lead generation programs.
About AIS Media, Inc.
AIS Media, Inc. is an Atlanta-based, award-winning strategic digital marketing agency. Founded in 1997, AIS Media has helped hundreds of clients amplify digital marketing performance including the world's top brands, companies and organizations. For more information on AIS Media, visit http://www.aismedia.com, like us on Facebook and follow us on Twitter.
# # #