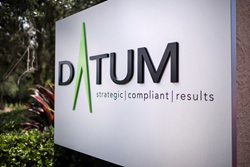 Datum is an established leader in technology services nationwide and we are impressed with their recent growth
Sarasota, FL (PRWEB) January 09, 2015
Datum Corporation, a national technology consulting company specializing in the multi-unit restaurant industry, has announced the appointment of Jeannette Castro, Rob Hendrickson, Karl Simons and Adam Moochnek as new leaders joining its knowledgeable management team.
The company has experienced significant growth over the last year, hiring over 20 new employees and plans to hire another 40 in 2015. With so many new, highly specialized and skilled employees, Datum is well positioned to continue its pattern of explosive growth and stay ahead of the curve in a competitive industry.
"Datum is an established leader in technology services nationwide and we are impressed with their recent growth," said Mark Huey, CEO and president of the Economic Development Council of Sarasota County. "As a former member of the EDC's Grow FL business support program, and as a recipient of County incentives, Datum's most recent growth affirms both their business leadership and the success of Sarasota County's supportive business environment."
Ms. Castro, Datum's new back office system specialist, has nearly 30 years' experience in the restaurant industry. Formerly a top performing business systems manager for Sbarro, Castro implemented and managed point-of-sale (POS) systems and inventory databases for all corporate and franchise stores. She gathered and analyzed data resulting in substantial cost savings and improved profitability, as well as helped to effectively roll out new Aloha POS systems across 500 stores. In her new role at Datum, she focuses on back office system solutions such as RTI, Compeat, Data Central and more.
Mr. Hendrickson, now director of client delivery management at Datum, has 20 years of experience providing mission-critical consulting and project management services to cabinet-level Federal agencies and Fortune 500 companies in the US and abroad. He has a proven track record helping clients navigate, adopt and reap benefits from transformative technology programs, organization redesigns, training programs and process reengineering efforts.
Mr. Simons, recently appointed as director of service operations at Datum, has well over a decade of experience in service operations management. Formerly the director of support services for Bloomin' Brands, Simons oversaw technical support groups for all corporate and restaurant locations and managed over 60 employees and supplemental staff. He was also responsible for the rollout of all new and enhancement of existing technologies, as well as implementing strategies to determine new internal requirements to improve team capabilities.
Mr. Moochnek, Datum's new major account manager, has more than 10 years' experience in project management. Prior to joining Datum, Moochnek served as a project leader at NCR Corporation, managing large multi-unit restaurant accounts including Beef 'O' Brady's and The Brass Tap, Fleming's Prime Steakhouse & Wine Bar, Roy's, The Melting Pot, Truluck's Seafood Steak & Crab House and more. He specializes in implementation of new and repeat systems, as well as training customers on all facets of Aloha software and PCI compliance standards.
"We are pleased to welcome this extremely talented group of new leaders to Datum," said Tom Frost, CEO of Datum Corporation. "Their extensive knowledge and skills within the industry will help to take our company to the next level and provide unparalleled support for our clients."
Datum was founded in 2003 when Frost provided comprehensive IT services for the rapidly growing Roy's Hawaiian Fusion Restaurants. To date the company has provided technology solutions for many restaurant chains, including Hurricane Grill & Wings, Beef 'O' Brady's and The Brass Tap, First Watch Restaurants, Stonewood Grill & Tavern, Ceviche Tapas Bar & Restaurant and more.
ABOUT DATUM CORPORATION
Datum is a full-service technology consulting partner and provides all-inclusive IT solutions to clients nationwide. Founded in 2003, Datum integrates best-of-breed technology solutions with specialties in the multi-unit restaurant market. Headquartered in Sarasota, Florida with satellite offices in Phoenix, Dallas and Los Angeles, Datum serves more than 3,700 active locations. There are currently over 162,000 client employees supported by Datum's technology center 24 hours a day, 7 days a week, 365 days a year. For more information, visit http://www.datumcorporation.com.