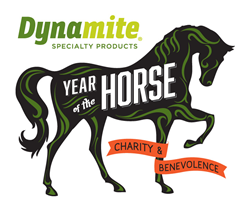 "People who buy our products are passionate about their animals and about making the world a better place," Callie Novak, Dynamite Specialty Products, CEO
Meridian, Idaho (PRWEB) January 15, 2015
Dynamite Specialty Products donated $3965 to Shiloh Acres Horse Rescue of Ault, Colorado as part of Dynamite's Year of the Horse Project. Dynamite's Year of the Horse Project was set up as a way to give back to horse rescues to celebrate the work that they do during 2014–the Chinese year of the horse. The tireless work of horse rescues directly ties into Dynamite's vision – to improve the lives of all creatures. The Year of the Horse funds are accumulated through company donations through product sales as well as other various means including a cash donation matching program, and product sponsorship for individual horses. Dynamite's Year of the Horse Project donated $26,485 in cash and product donations over the course of the year.
For the fourth installment of the Year of the Horse Project, November 1 through December 31, Dynamite donated 5% of all sales of their equine foundation supplement, TNT™. On top of that, Dynamite also did a cash donation matching funds program. "People who buy our products are passionate about their animals and about making the world a better place," said Callie Novak, Dynamite's CEO. "We attract people who are driven by projects that help animals, improve soil, save lives and make the world a better place."
Dynamite started its Year of the Horse Project in early 2014 with a call for its distributors and customers to nominate their favorite horse rescues. The initial call for nominations generated over 110 entries. The number of nominations and the passion that was behind each nomination made the decision a difficult one for each quarter. Shiloh Acres is a small, family-operated rescue dedicated to helping slaughter-bound, abused, neglected and unwanted horses. They are a small rescue fighting a big fight.
Shiloh Acres Horse Rescue is located in Ault, Colorado. It is also located right near a livestock auction yard. This auction yard is the "last stop" for many animals; cows, sheep, goats, pigs AND horses. Having to drive by this lot almost every day is a reminder of why Shiloh Acres does the work that they do. Their namesake, Shiloh, came from this lot. Although Shiloh's life was cut short, her inspiration was deep and lasting.
Shiloh Acres' mission is to rescue, rehabilitate and re-home horses in need, to be a resource for people needing help with their horses, and to educate the public about horse slaughter and horse overpopulation problems.
A family-owned company based near Boise, Idaho, Dynamite has been manufacturing and distributing nutritional supplements for all living creatures for 30 years. Their steadfast approach of innovation guided by nature, backed by science has earned them nationwide recognition and familiarity. All walks of life, from humans to horses and the soil they graze upon, can be supplemented by the wide array of Dynamite products. Dynamite has a long tradition of making charitable contributions.
Dynamite uses only natural ingredients, made in the United States for better quality control. Throughout its history, it has always looked at alternatives to animal by-products, antibiotics, chemical preservatives, fumigants, artificial coloring and other additives that have later caused health problems.
Dynamite dog food, horse feed, vitamins and nutritional supplements, and other products are available through more than 4,000 individual distributors across the country.
Dynamite's Year of the Horse Project ran the course of 2014. Dynamite's first quarter Year of the Horse funds recipient was RVR Horse Rescue of Riverview, Florida. Their second quarter recipient was Strawberry Mountain Mustang Rescue and Rehabilitation Center in Roseburg, Oregon and their third quarter's recipient was BlueStar Equiculture out of Palmer, Massachusetts.
For more information on Dynamite, or to order products visit http://www.dynamitespecialty.com or call their customer service team at 800-697-7434.