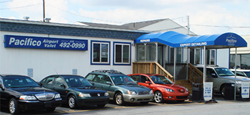 Philadelphia, PA (PRWEB) January 28, 2015
Pacifico Airport Valet is pleased to announce real-time online valet parking reservations available 24/7, on their recently revised and upgraded website, pacificovalet.com. Within one minute a site visitor is able to make a reservation including the selection of either a coupon or a relevant discount level. In fact, Pacifico has the lowest rates in Philadelphia for valet parking companies servicing Philadelphia International airport (PHL).
Pacifico is also pleased to announce their new VIP House Member program which is 100% accessible from the new site. When a visitor signs up for VIP House Member Program, they gain access to several new features including:

Receipts for work or taxes are stored in the customer profile
Email address available for upcoming discounts
Every 4th stay (no more 5 stays) entitles you to 2 free days of parking and discounts can still be used.
Pacifico auto dealerships have been in business in Philadelphia for over 75 years. More than 40 years ago Pacifico originated the Airport Valet Parking concept in Philadelphia. They offer a personalized airport parking service. Pacifico's drivers transports travelers to and from their airport terminals in the comfort and privacy of their own vehicle. They are open 24/7, 365 days a year and have a safe and secured parking area. It is patrolled 24/7 by security personnel and reinforced with a state of the art surveillance camera system.
Pacifico is also certified Ford, Hyundai and Mazda dealers with full service shops. They perform service on all types and makes of vehicles. They can handle repairs, oil changes and even State Inspection while a customer is away. Pacifico can even detail your car. Pacifico Airport Valet Parking is located at 6715 Essington Avenue in the Philadelphia Auto Mall. You can reach them at 215 492 1990 or on their interactive website; pacificovalet.com.
For more information on Pacifico Airport Valet call 215 492 0990 or visit their website at pacificovalet.com.