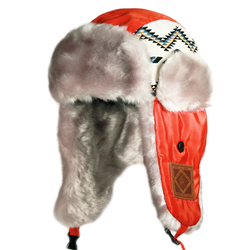 Our trapper hats are specifically made to keep the heat in with soft side flaps and thick upper cap. The hat is perfect for any winter day, whether it is snowing or blustery cold.
Carlstadt, NJ (PRWEB) January 13, 2015
As temperatures drop across the U.S., many are predicting a harsh winter season and rushing to find clothing to keep warm. One of the warmest collections from City Hunter Cap USA, the Trapper hat, is perfect for these painful temperatures.
The trapper hat comes from the word "trapper" which is the person who traps animals for hunting purposes (the animal is 'trapped' to obtain its fur for clothing and other pieces). Used in Russia, Germany, Scandinavia and the U.S., the trapper hat is famous for having fur interior and outdoor use.
The Wool Trapper Hat collection is available in down nylon, shiny nylon, denim, cotton, wool and suede as a variety of colors and patterns. Available for both adults and kids, the hats range in price from $14.99 to $17.99.
These and City Hunter Cap USA's other product selections are widely popular among the skateboard community, musicians, artists, bikers and fashionistas across the world. The company prides themselves in being involved in the community and offering selections that all age groups and demographics can identify with. They are pleased to begin to offer this trendy design to their vast product selection of headwear online. For more information please visit their website at http://www.cityhuntercapusa.com.
To check out City Hunter Caps USA's Wool Trapper Hat Collection, please visit their website at http://www.cityhuntercapusa.com/trapper/137.
About City Hunter Cap USA
Since 1991, City Hunter Cap has offered unique headwear for all ages, nationalities and genders across the globe. Headquartered in New Jersey, the company has grown immensely since its beginnings and prides itself on the mission to "Be REACH-able," epitomizing their main goal to reach out to anyone, anywhere. Today they are one of the top headwear companies worldwide, providing unique and custom designed hats such as, Fedoras, Cadet Hats, Snapbacks, Bucket Hats, 5 Panel and Floppy Hats. Their unique positioning of offering quality designed hats at wholesale costs and exceptional customer service, enables them to stand out from their competitors. Currently, they are helping grow the popularity of headwear nationally by offering diverse selections for any person or occasion. To find out more about City Hunter Cap USA or shop their products online, please visit their website at http://www.cityhuntercapusa.com, Facebook or Twitter.