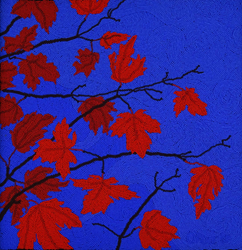 GRAND RAPIDS, Mich. (PRWEB) January 09, 2015
Frederik Meijer Gardens & Sculpture Park is pleased to announce Grand Rapids native, Colleen O'Rourke, as the winner of the 2014 Ray and Nancy Loeschner Annual Art Competition.
O'Rourke works with a needle and thread, taking seed beads beyond their traditional role as adornment and putting them in the spotlight as a fine art medium. Her winning entry, "Autumn Blaze", depicts fiery red maple leaves on a background of electric blue swirls, inspired by the landscape at Meijer Gardens.
In addition to the $3,000 prize, O'Rourke's work will become a part of Meijer Gardens' permanent collection. She joins other recent winners including: Dianne Shullenberger, Stephen Duren, Chris Overvoorde, Stephen Schousen, Margaret Vega, James Karsina and Sharon Sandberg.
The official call for 2015 entries will come in the fall, but artists are encouraged to work on their entry anytime during the year. Submissions are due November 2, 2015, and artists across the state and the globe are welcomed.
Celebrating its 13th year, Ray and Nancy Loeschner established the two-dimensional competition to encourage artists to create work inspired by the grounds and collections of Frederik Meijer Gardens & Sculpture Park.
###
Image available upon request. Click here for thumbnail: https://www.dropbox.com/s/eztmp87xijc72xe/Autumn%20Blaze.jpg?dl=0
About Frederik Meijer Gardens & Sculpture Park
One of the world's most significant botanic and sculpture experiences, Frederik Meijer Gardens & Sculpture Park serves over 600,000 visitors annually. Meijer Gardens was recently ranked in the top 100 most-visited art museums worldwide by Art Newspaper, the leading publication in global art news. The 158-acre grounds feature Michigan's largest tropical conservatory; one of the largest children's gardens in the country; arid and Victorian gardens with bronze sculptures by Degas and Rodin; a carnivorous plant house; outdoor gardens; and a 1900-seat outdoor amphitheater, featuring an eclectic mix of world-renowned musicians every summer. The internationally acclaimed Sculpture Park features a permanent collection including works by Rodin, Oldenburg, Moore, Serra, Bourgeois and Plensa, among others. Indoor galleries host changing sculpture exhibitions with recent exhibitions by Picasso, Degas, di Suvero, Borofsky, Calder and Dine. In June 2015, the 8–acre Richard & Helen DeVos Japanese Garden at Frederik Meijer Gardens & Sculpture Park will open. Created by renowned designer Hoichi Kurisu, the garden will also feature sculpture by Anish Kapoor, Zhang Huan, Jenny Holzer and Giuseppe Penone, among others.
Website | Facebook | Twitter | YouTube