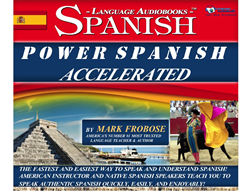 LanguageAudiobooks.com specializes in smartphone-friendly language programs.
Champaign, IL (PRWEB) January 12, 2015
According to Mark Frobose, Founder and CEO of LanguageAudiobooks.com, sales of their popular smartphone-friendly language programs have never been better.
Why?
"The new trend in language learning is quickly moving toward smartphone-friendly language programs because people are more mobile than ever," explains Mark Frobose, CEO of LanguageAudiobooks.com.
"With a smartphone, busy people learn languages everywhere they go," continues Frobose, bestselling author of smartphone-friendly Power Spanish Accelerated.
"Portability and understandability are the 2 most important features modern language programs must have in order to be successful with today's language learners," emphasizes Frobose, bestselling author of Smartphone Italian Intensive.
Mark Frobose, CEO of Language Audiobooks Inc., actually specializes in creating smartphone-friendly language programs that feature educated native speakers, a powerful memory technique and a no-nonsense fast and easy method. His smartphone-friendly Power French, Power Portuguese, Spanish Sentence Magic, Portuguese Sentence Magic, Mandarin Sentence Magic, BiteSized German, Power Spanish Conversation Intensive, Italian for Travel and Eating Out are all currently outselling other titles.
Other new smartphone-friendly titles from LanguageAudiobooks.com are Power Spanish Verbs I, Power Italian Verbs I, Mandarin Sentence Magic, and Smartphone French Intensive.
Learn Languages Everywhere® is the motto of LanguageAudiobooks.com. The Language Audiobooks® method is an extremely effective and versatile audio language learning system that can be used anywhere for any duration of time to teach people to speak any language while in the car, at home or on a smartphone.
Free sample lessons of Language Audiobooks' popular Power Spanish, Power French, Power Italian, Bite-Sized Mandarin, Conversational Latin-American Spanish, Clean French Slang and other innovative language programs are available now at LanguageAudiobooks.com and at Audible.com.