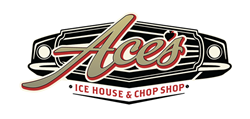 "I am excited about the opportunity to partner in the restaurant and develop my own menu. Anyone that tries the food can clearly see my Texas roots coming through in the cuisine."
Frisco, TX (PRWEB) January 09, 2015
The city of Frisco has a new Chef Driven™ restaurant to add to the must-visit list. Ace's Ice House & Chop Shop, a unique concept centered on regional Texas cuisine, has just opened in World Cup Plaza at Main and the Tollway.
The Texas Casual™ concept is the brainchild of corporate financier, Jonathan Collura of 1836 Capital and local entrepreneur, Dimple Patel. The two partnered to bring to life an experience where locals can get high quality Texas inspired dishes in a laid-back, family-friendly setting.
"Texas Causal is more than just food," Patel said. "It centers on the Texan way of life where you can have fun while enjoying great food in a casual setting with the company of friendly people."
Collura and Patel enlisted Texas born and bred MasterChef season 5 contestant, Cutter Brewer, to design the Texas influenced menu. Brewer and Chef Brad Brown of Houston's McCormick & Schmick have worked hand in hand to ensure that the menu has a diverse mix of unique regional Texas offerings and more mainstream items with a Texas twist.
"This past year has been a dream come true for me," Brewer said. "First, being selected from 2,000 other home-chefs to learn first-hand from MasterChefs like Gordon Ramsey and Graham Elliott and competing on a nationally televised cooking competition to now developing and managing my own restaurant."
"I couldn't be more excited about the Ice House & Chop Shop concept," said Brewer. "It's a more relevant and updated Texas bar and grill with a subtle auto theme undertone. I'm also proud to say that we are locally sourcing many of our items from the beer to the Texas grass fed wagyu beef for a truly authentic Texas menu."
"As a local resident and businessman, I saw a need in this community for a family-friendly dining establishment that offers great, high quality food at accessible prices," said Collura. "This was a great opportunity to bring seasoned chefs with their own unique style to develop dishes that would be embraced by the booming community of Frisco."
"I am excited about the opportunity to partner in the restaurant and develop my own menu," Brewer said. "Anyone that tries the food can clearly see my Texas roots coming through in the cuisine."
Ace's Ice House & Chop Shop is located by Toyota Stadium and the 186 seat, 3,900 square foot restaurant boasts a 50 foot bar with 70 beers and 40 whiskeys.
Ace's is open seven days a week, 11 AM to Midnight. For more information, please call Curtis Eubank at 832-385-7666 or email us at info(at)acesicehouse.com.
About Ace's Ice House & Chop Shop
Ace's Ice House & Chop Shop is a Texas Casual™ restaurant with a subtle auto theme. The Chef Driven™ concept focuses on locally sourced ingredients and products such as its grass fed Wagyu beef. The menu consists of Texas dishes and national classics with a Texas twist. Ace's is high quality dining in a laid back family-friendly setting.