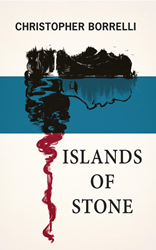 Dallas, TX (PRWEB) January 09, 2015
Accomplished screenwriter Christopher Borrelli's first foray into the literary world is a new post-apocalyptic novel series named The Islands. The first book, Islands of Stone, is now available with the second in the series, Islands of Ghosts, to be released in June. Mr. Borrelli is already in discussion with several Hollywood producers to turn the books into a film series. The book is published by Dallas-based Adventure Factory Publishing and is available on Amazon in both paperback and kindle versions.
Islands of Stone follows an eighteen year-old military brat, Ginny, her boyfriend, Brandon, and her father as they try to escape the nuclear fallout. The trio can only watch helplessly as the land becomes an inferno; Ginny's father had just enough warning of the coming armageddon to get them to sea. But the world as they knew it is gone.
The three survive at sea for months, fishing the poisoned waters, sailing away from deadly clouds of radiation, and trying not to turn on each other. The few others they come across have resorted to piracy; organized killers fighting for what meager supplies there still are.
The situation only becomes more desperate and brutal as it wears on. Ginny knows their luck has finally run out when pirates attack their boat. During the violent struggle, death seems certain, when suddenly Ginny spies something in the waters ahead --- an island.
For more information go to http://www.islandsofstone.com
Christopher Borrelli, a native of Needham, Massachusetts, has been a working screenwriter for the past decade. In that time he has sold half a dozen original feature scripts, and surpassed that number in studio assignments and pitch sales. He is the creator of four completed films, two of which are currently in post-production; "The Vatican Tapes" releases theatrically on May 15, with "Eloise" to follow later in 2015. His fifth film begins filming February 17th with an A-list star as the lead role. The Islands series is Borrelli's first foray into the literary world. He is represented by DMG Entertainment in Los Angeles.
Adventure Factory Publishing is a new specialty publisher in the world of fiction.