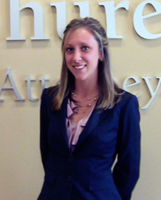 Out of and in the course of employment
Columbia, Maryland (PRWEB) January 09, 2015
In a complex Maryland workers' compensation case involving an employee being struck by a car in her employer's front parking lot while walking to work in the morning, Portner & Shure attorney, Christina Ruhl, successfully argued the "premises exception" to the coming and going rule. WCC Claim No: B 79-38-59. As a result of the accident, our client sustained serious injuries to her head and knee, and her employer denied the claim because of the coming and going rule. WCC Claim No: B 79-38-59.
The general and widely accepted rule in workers' compensation law is that injuries sustained while coming and going to and from work are not compensable. The rationale for having such a rule is that the risks workers are exposed to while traveling to and from work do not arise "out of and in the course of employment," as these types of risks are endured by the general public every day. Wiley Manufacturing Co. v. Wilson, 280 Md. 200, 206 (1977). However, as with most rules, there are two exceptions: the "premises exception" and the "special hazard rule."
The "premises exception" to the coming and going rule applied in this case and it provides that an injury sustained by an employee who has arrived on her employer's premises, but has not yet begun her shift, is compensable. Maryland courts in particular have held that the parking lot of an employer's business constitutes "premises" under this rule. For example, the Maryland Court of Appeals in Proctor-Silex v. DeBrick held that injuries sustained in the parking lot or between the building entrance and time clock are compensable. 253 Md. 477 (1969).
At trial, the employer argued that the worker's case was not covered by the "premises exception" because the worker was in a public parking lot in front of her place of employment as opposed to the back parking lot, which was designated for employees. WCC Claim No: B 79-38-59. One of the employer's witnesses testified that employees were not allowed to park in the front lot, unless they had special permission. WCC Claim No: B 79-38-59. However, a witness for the worker testified that employees customarily parked in the front lot. WCC Claim No: B 79-38-59.
To further prove our client's case, Ms. Ruhl argued that the facts of May Dept. v. Harryman, 307 Md. 692 (1986) are analogous to the case at hand, and thus like our client's injury should be compensable. The May Court held that the "premises exception" applied to a parking lot regularly used by employees of a shopping center, as well as the general public, even if the parking lot was not controlled by the employer. Id. As a result, the Workers' Compensation Commission (WCC) agreed with Ms. Ruhl and held that the "premises exception" applied as it did in May. This is because the lot was customarily used by the employer's employees, and was at times used with the owner's special permission. Thus, the WCC awarded the worker temporary total disability benefits and authorized continuing medical treatment. (See http://www.wcc.state.md.us/)
This was a noteworthy win for Ms. Ruhl and Portner & Shure because a complex rule was successfully argued against using an exception. Without Ms. Ruhl's significant time and effort that she put in to this case, our client would not have been able to recover disability benefits for her accident.