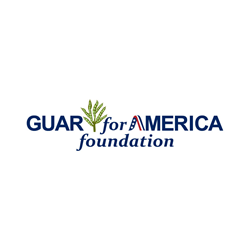 a strong, sustainable American based guar industry can and needs to be established - Dr. Lewis Norman, Guar for America Foundation
Houston, TX (PRWEB) January 09, 2015
The Guar for America Foundation has been formed with the goal to promote guar in the United States in all aspect, and to advance the use and application of guar.
Guar as an agricultural crop began in the USA prior to 1950. It is processed into a finely ground flour called guar gum, which has a wide range of applications in the food industry, as well as in other manufacturing processes. Currently the largest use of guar gum is in hydraulic fracturing of primarily shale oil and gas wells. For farmers, it is a potentially important crop which can be grown rotationally or regularly as a niche crop in warm, southern climates especially on semi-arid lands.
The United States has excellent strategic advantage to grow and produce this material and assist both rural farming communities, and guar gum users, including the petroleum industry.
The foundation's founding director, Dr. Lewis Norman, said "a strong, sustainable American based guar industry can and needs to be established. Currently guar gum which is vital to our national energy supply comes from India and Pakistan. If we can get the capability of the American agriculture system fully engaged, there is no doubt in my mind the productivity and efficiency of our farmers can grow guar competitively. Through technological advancements, our agriculture system and manufacturing technology can allow a USA based guar industry be established. This will be good for everyone connected to the guar supply chain. Through education and research, this foundation will play an important role in helping many through the advancement of guar in the United States. I encourage all members of this association to get involved, with their time and funding so we can bring this dream into reality."
Mr. Craig Clark, a 4th generation farmer in Greer County, Oklahoma who is on the board of directors said "my family and I have been raising guar off and on for over 50 years. And we believe guar is a crop that will work well in our farming operation if reliable markets can be established and guaranteed such that we can sell what we grow. I believe the US farmer can compete with farmers in India and Pakistan. Look at the evolution of farming practices and varieties available in wheat, cotton, corn, peanuts, and milo over the past 50 years. The American farmer can grow these crops competitively, and we can grow guar also if we can get markets and future technology developed. It is an honor to help this foundation, and I look forward to the advancements we can make."
About Guar for America Foundation
Guar for America Foundation (GfAF) is a private, registered non-profit trade group whose mission is to promote advancement of guar for all guar stake holders. These include farmers, storage elevators, guar processors, and all guar product consumers including oil field services, food, industry, animal feeds, and others. GfAF is managed by volunteer directors and expert advisors, and funded voluntarily by organizations for the purpose of funding guar related education and research.