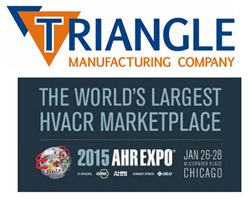 Oshkosh, WI (PRWEB) January 14, 2015
Triangle is excited for the chance to once again reconnect with customers old and new and to show off advancements, solutions and creative engineering ideas for the HVACR industry. Triangle Manufacturing will be at booth #7078, January 26th through the 28th in the South Hall at McCormick Place in Chicago, IL.
Triangle will be showcasing mountings for commercial and residential fans and cushion mounted bearings for vibration reduction. Triangle's products are used for both impeller and propeller type fans and blowers. They will also have a pared-down version of their pneumatic motor mount assembly fixture to show the benefits of onsite assembly for their high-volume OEM clients.
Triangle's HVACR product catalog contains thousands of custom arms, brackets and bands for securing motors within direct drive blowers and fans and assorted cushions and mountings for evaporative coolers, furnaces and ventilation systems. Triangle's high-efficiency HVAC solutions that can accommodate larger fan blades will also be a topic of discussion as new European regulations continue to shape the industry.
Last year's show in New York had over 60,959 people in attendance, and the show covered 385,000 square feet of the Javits Center. Triangle is looking forward to a busy show this year full of engineers and purchasers looking for complex solutions to HVACR mounting and vibration problems.
About Triangle Manufacturing
For almost a century, Oshkosh, Wisconsin's Triangle Manufacturing Company has used a foundation of experience paired with technical know-how and advanced automation to be the leader in fully customizable metal fabrication, product innovation and invention. We have introduced and redesigned fresh products that are progressive in their respective industries. Whether you need lazy susan bearings and HVAC components, pillow block mountings and blower bearing brackets or rod ends and direct-drive motor mounts, you can rely on Triangle Manufacturing's Creative Engineering. For more information, samples or quotes, visit us at http://www.TriangleOshkosh.com.
About the Show
AHR Expo 2015
Chicago, IL
Monday, January 26th through Wednesday, the 28th
McCormick Place
2301 S Lake Shore Dr.
Chicago, IL 60616