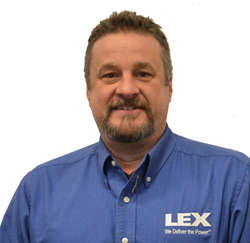 (PRWEB) January 09, 2015
Lex Products is pleased to announce the promotion of Jack Hogarth to Product Manager of Industrial and Military products. Jack joined Lex in November 2009 as an Inside Sales Representative for the Midwest territory where he quickly demonstrated his customer centric focus and his play-to-win attitude.
Jack has filled several inside positions including Military Sales and also served as the Territory Manager for the Midwest in 2012. Before coming to Lex, Jack worked at Hubbell as a Technical Service Representative where he provided assistance to distributors, end users, architects and specification engineers. Jack has also been a field electrician and is well versed in commercial, industrial and residential applications.
As a Product Manager, Jack will be responsible for maintaining, nurturing and growing our industrial and military products. This includes product development, redesigns, promotional programs and training of internal and external customers. .
You can reach Jack at JHogarth(at)lexproducts(dot)com or (800) 643-4460.
About Lex Products:
Lex Products Corporation is a leading manufacturer of innovative power distribution and control systems for demanding markets, including entertainment, industrial and the military. Founded in 1989, the company specializes in portable power systems including distribution boxes, cable assemblies, cable protectors and other products, designed to withstand rough use and harsh environments. Lex Products is ISO 9001:2008 certified for all production, operations and support services across its three U.S. facilities.
Headquartered in Shelton, Connecticut, the company also has offices in Sun Valley, California and the United Kingdom. To learn more about Lex Products, visit http://www.lexproducts.com.