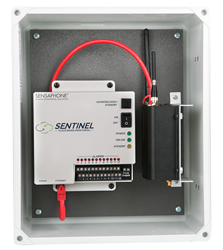 Sentinel offers the most inputs per device on the market, making it the most cost-effective remote monitoring option available today
Aston, PA (PRWEB) January 09, 2015
Sensaphone®, a leader in environment monitoring and alerting technology, introduces its new Sentinel™ system that provides 24/7 remote monitoring of unattended HVAC units, freezers and refrigerators.
When environmental changes or equipment malfunctions threaten HVACR units and the products/assets they protect, the Sentinel system automatically alerts facility managers, who can take appropriate measures to quickly address the potentially costly situation. Only one unit is required to monitor up to 12 different environmental and equipment status conditions including temperature, humidity, water detection and power failure. When the system detects issues, it instantly sends alerts via phone, text or email.
The Sentinel system stores all sensor readings in the cloud, which provides unlimited information storage and protects against data loss. Multiple devices can be managed from one account using intuitive web-based management tools. No software is required, so installation, integration and management of the system are fast and easy. The standard Sentinel system is Ethernet based, but the product is also available with a cellular option for remote locations where Internet connectivity is unavailable.
"This cloud-based monitoring system is ideal for HVACR professionals because it provides an additional layer of assurance that valuable equipment is safe and secure," said Dave DeFusco, vice president of engineering at Sensaphone. "Sentinel offers the most inputs per device on the market, making it the most cost-effective remote monitoring option available today."
Enhanced data logging capabilities allow users to print, graph or export accurate historical records and send event reports daily via email, providing an audit trail of all user data activities, edits or deletions.
About Sensaphone
Sensaphone® offers a comprehensive line of remote monitoring products that safeguard valuable assets by tracking critical environmental data such as temperature, humidity and power failures. Sensaphone products provide alerts and proactive monitoring data to homeowners and facility managers in many areas including telecommunications, oil and gas, water and wastewater, HVACR, agriculture, healthcare, data centers and greenhouses. More than 400,000 Sensaphone systems are in use today around the world, and they continue to be manufactured in the USA. For more information, call 877-373-2700, email sales@sensaphone.com or visit http://www.sensaphone.com.
# # #
Media Contact:
Lisa Goetz
Schubert b2b
lgoetz(at)schubertb2b(dot)com
610-269-2100 x244