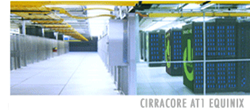 Cirracore's Enterprise Cloud offering which includes a 100% uptime guarantee
Atlanta, Ga (PRWEB) January 08, 2015
Limited-time, free month offer and trip to the Bahamas for two to Verizon customers affected by planned 48-hour service outage.
Cirracore, a leading supplier of VMware® Enterprise Cloud Infrastructure as a Service (IaaS) solutions, has announced today that they will offer a free month with a minimum 1 year term for dedicated cloud resources for any current Verizon Cloud customer that can't tolerate the upcoming extended outage recently announced by Verizon (Verizon Plans Two-Day Cloud Outage For Maintenance), and would like to move their Cloud resources to Cirracore's Enterprise Cloud offering which includes a 100% uptime guarantee. The Cirracore technical team will be available to assist with migrations.
Additionally, Cirracore is currently offering a vacation trip for two to Atlantis in the Bahamas (http://www.cirracore.com/beach-trip/) for leads, and will extend this offer to any Verizon customer that takes advantage of this migration offer.
For more information, visit Cirracore.com. To request your no-cost, no-obligation, limited-time assessment, contact Cirracore at sales(at)cirracore(dot)com, U.S. toll free at (888) 797-3831, Ext. 701 or worldwide +1.404. 348-2436, Ext. 701.
About Cirracore
Cirracore is a global provider of managed enterprise, private and hybrid cloud solutions for mission critical applications that allow enterprises to scale operations while reducing costs and IT infrastructure support. Cirracore has rapidly become one of the most respected high-performance Infrastructure as a Service (IaaS) providers in the industry serving a global enterprise customer base. Cirracore has partnered with premier companies that are leaders in their respective industries to provide best in class service to our customers. Visit Cirracore to learn about Enterprise Cloud hosting at http://www.cirracore.com