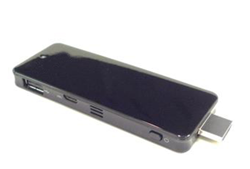 Las Vegas, Nevada (PRWEB) January 08, 2015
CTL®, a Beaverton, Oregon computer company, officially released the CTL Compute Stick™ from the Consumer Electronics Show (CES) in Las Vegas today. The CTL Compute Stick™ is a miniature, pen-drive shaped PC that comes with Windows 8.1 Professional pre-installed and includes a quad-core Intel® Bay Trail processor, 2GB of RAM and 32GB of internal storage. With wi-fi and bluetooth support, the CTL Compute Stick™ is a full Windows 8.1 PC that plugs into any HDMI monitor or television and allows users to access online documents, browse the web and use professional applications such as Microsoft Office.
With dimensions of only 4.37'' x 1.49'' x .38'', the CTL Compute Stick™ includes a USB 2.0 port, SD port and HDMI input. More than just a media stick, it puts the power of a tablet into a device that fits into the palm of your hand. CTL's Compute Stick™ comes from a company with over 25 years of experience in computer technology and will be offered for $149, including Windows 8.1 Professional, to qualified education customers.
Founded in 1989, CTL® designs and manufactures computer products including desktop and mobile workstations, LED Monitors, and high performance servers. CTL® also manufactures specialty devices including ruggedized tablets, slates, and digital sign solutions. Headquartered in Beaverton, Oregon with offices in Asia, CTL® and their partners supply North American consumers, government agencies, and many of the most recognized corporate brands. For more information about CTL®, please visit http://www.ctl.net.