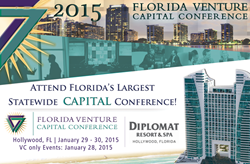 The largest Florida Venture Capital Conference will be taking place in Hollywood, FL on January 29th & 30th
Hollywood, Florida (PRWEB) January 08, 2015
Save On Medical is pleased to announce that they have been selected as a presenter at Florida's largest capital conference, the Florida Venture Capital Conference in Hollywood, Florida from January 29th-30th.
This will be the 24th Annual Florida Venture Capital Conference, hosted by The Florida Venture Forum. The conference will showcase 20-25 high-growth Florida companies, including Save On Medical, in front of an audience of angel investors, venture capitalists and other industry professionals.
Tampa-based startup, Save On Medical graduated from the Healthbox Accelerator program in November of 2014 and has developed relationships with key stakeholders in the industry including Florida Blue. At the Florida Venture Capital Conference, Save On Medical's CEO and Co-Founder, Chris Christenberry will showcase the platform, discuss success and share their vision for moving forward in 2015.
Save On Medical is also a finalist in the Bright House Networks' Regional Business Awards and will be participating in the televised Shark-Tank-Style at the Pitch6 Event on January 27th in Tampa, hosted by Kevin Harrington, formerly of Shark Tank.
About Save On Medical
Save On Medical is an online marketplace that uses price transparency to help patients make informed care decisions based on cost, quality or convenience while locking in discounted prices with no hidden fees. Health care providers are also able to advertise, collect up-front payment and fluctuate prices based upon demand.