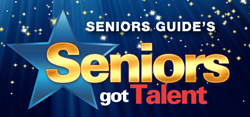 age is just a number
Richmond, Va (PRWEB) January 09, 2015
The votes have been counted, and the winners of Seniors Guide's 2014 SENIORS GOT TALENT include Retirement Communities in Lynchburg, Va, Retirement Communities in Cincinnati, Oh, and The Garner Senior Center in Garner, NC.
For the 3rd straight year in a row, the talented ladies of the "G-Squad" have won a cash prize in the annual online video showcase talent competition. The local Senior Center was awarded $250 by Seniors Guide.
"The Garner G Squad is proof that age is just a number", says Nancy Hulbert, Fitness Program Specialist for the town of Garner, North Carolina.
"We perform for local nursing homes, fund raisers, town events and compete in Senior Games", says Hulbert.
Now in it's 3rd year, SENIORS GOT TALENT continues to receive numerous entries from previous contestants, as well as new talents.
"SENIORS GOT TALENT definitely has a following," says Katharine Ross, Vice President of Marketing for Seniors Guide Magazine and http://www.SeniorsGuideOnline.com.
2nd place this year was awarded to Cedar Village, a retirement community in Cincinnati, Oh. Music therapy resident Orlando Bellomo was awarded posthumously for his rendition of "Danny Boy".
"Orlando would truly have benefited from this!", says Sally Korkin, Senior Director of Community Relations and Outreach for Cedar Village Retirement Community.
The community plans to use its $500 winnings in Orlando's name to further the music therapy program at Cedar Village.
For the second year in a row, Lynchburg Retirement Community, Runk and Pratt Senior Living, has taken the grand prize of $1,000 for their video of "Up All Night" – a produced short featuring residents "sneaking" out of the community and having fun after dark.
The 2015 SENIORS GOT TALENT begins in the Summer. Email Talent(at)SeniorsGuideOnline(dot)com for questions, or to pre register.
Seniors Guide, a Richmond, Va. -based company publishes Seniors Guide magazines throughout Cincinnati, Ohio; Columbus, Ohio; Dayton, Ohio; Indianapolis, Indiana; Raleigh-Durham, North Carolina; Richmond, Virginia; and Roanoke-Lynchburg, Virginia and features a correlating website of SeniorsGuideOnline.com. Seniors Guide's mission is to help seniors and their families find the information they need on options available in senior housing, senior care, assisted living, independent senior living, retirement communities and other retirement living needs. Seniors Guide also has resources at http://www.HomeCareChoice.com for Cincinnati, Ohio; Columbus, Ohio; Dayton, Ohio; Raleigh-Durham, North Carolina; and Richmond, VA. Ross Publishing, Seniors Guide's parent company, began in 1991 and has been publishing helpful, free publications and websites ever since.