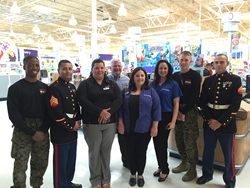 "The holiday season is about giving back and we (at USAgencies) are very excited to have been a drop off location for a great program like Toys 4 Tots." Heather Leonard, Market Leader for USAgencies
Plano, Texas (PRWEB) January 10, 2015
USAgencies, a leading provider of low cost auto insurance, is proud to have partnered with the 3rd Battalion, 23rd Marines Corps Reserves of Baton Rouge to make the Holiday Season merry and bright for families in need. USAgencies rallied with the local business community to participate in Baton Rouges' inaugural, "Toy Buy with Friends."
Since the Toys for Tots program began in 1947, Marine Corps Reserve Units have collected over 400 million toys and distributed those toys to more than 189 million children. Today, Toys for Tots is in over 750 communities and all fifty states delivering holiday cheer to more than 7 million children each year. Baton Rouge Toys for Tots coordinator, SSgt. Marco Garcia, lead the charge in raising $10,000 that helped to buy unwrapped toys to supplement toy donations for Baton Rouge's very first," Toy Buy with Friends." Heather Leonard, USAgencies Market Leader stated, "The holiday season is about giving back and we (at USAgencies) are very excited to have been a drop off location and a sponsor for a great program like Toys 4 Tots. It reminds us all about what this time of year is all about, helping others that are less fortunate."
USAgencies has served Louisiana by meeting the non-standard auto insurance needs of its community for over 20 years and hopes that by supporting Baton Rouge Toys for Tots it delivers the joy and magic of Christmas to Families in Baton Rouge.
About CIGH Inc:
Confie Insurance Group Holdings (CIGH) operates four non-standard insurance agencies in nine states. CIGH is part of Confie Seguros family of brands, which is becoming the fastest growing insurance conglomerate in the nation. These brands include InsureOne, USAgencies, A-Affordable, and Driver's Choice. In addition, CIGH operates two premium finance companies supporting those agencies. The CIGH family of companies is dedicated to providing insurance solutions using a wide variety of products and carriers to give our customers a superior insurance experience. USAgencies has proudly served Louisiana and Alabama for nearly 20 years and prides itself for providing high quality auto insurance at low prices with a commitment to providing superior customer service.