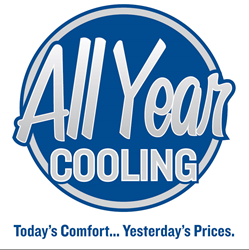 We have wanted to launch a referral program for a long time and are very excited to announce our Cool Cash Rewards Club. We have always valued our customers and want to let them know how excited we are
Ft. Lauderdale, FL (PRWEB) January 09, 2015
All Year Cooling has always valued their customers and their continued loyalty. If it weren't for their customers, they would not be where they are today. To thank their customers, All Year Cooling has decided to launch a customer referral program called the "Cool Cash Rewards Club."
Cool Cash Rewards Club rewards customers loyalty perks such as raffle drawings, tickets to sporting events, and other fun giveaways. With special membership rewards, and the chance to win hundreds of dollars simply by referring friends and family to All Year Cooling, customers are bound to enjoy being a member of the Cool Cash Rewards Club.
President Thomas Smith quoted: "We have wanted to launch a referral program for a long time and are very excited to announce our Cool Cash Rewards Club. We have always valued our customers and want to let them know how excited we are." All Year Cooling customers can join for free today by signing up at aycrewardsclub.com.
All Year Cooling is a South Florida family-owned company that has been in business for over 40 years. Specializing in air conditioning maintenance, sales, repairs, and installations, All Year Cooling understands what it takes to keep South Florida out of the heat. All Year Cooling is able to serve customers from Vero Beach to the Keys.