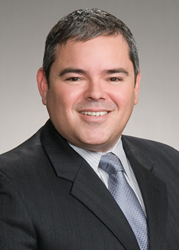 Denver, CO (PRWEB) January 13, 2015
Holland & Hart litigation attorney Diego Hunt will be receiving the Colorado Hispanic Bar Association's 2015 Chris Miranda Award at the CHBA's annual banquet on Jan. 24, 2015. The award is presented to an outstanding Hispanic attorney in practice more than five years who has shown a continual commitment to the Hispanic community and to the principles of the legal profession.
"Diego is an exceptional legal advocate and is unparalleled in his commitment to our community," said CHBA President, Elizabeth Espinosa Krupa. She said Hunt richly deserves the award not only for his skills as a litigator but also for his commitment to pro bono work and community service.
"Diego is committed to pro bono work, dedicating over 500 hours a year to pro bono endeavors, the majority involving representation of vulnerable individuals – monolingual Spanish-speakers," she said.
His active community leadership includes having served as President of CHBA; a member of the Senators' Federal District Court Vacancy Selection Advisory Committee; and on the boards of the Colorado Bar Association, Faculty of Federal Advocates, the Latino Community Foundation of Colorado, Mi Casa Resource Center, Denver Center for Crime Victims, the Denver Latino Commission, the Latina Safehouse Initiative, and El Centro Esperanza.
Hunt has more than 15 years of litigation experience helping clients resolve complex domestic and international products liability and torts disputes. He has appeared before various federal and state courts, as well as before federal and state agencies, participating in all stages of proceedings, including agency investigations, motion hearings, and court and jury trials.
"For nearly 15 years in practice and in service, Diego has exemplified the values held most dear and remembered in the Chris Miranda Award," Krupa said.
Assistant Attorney General for Colorado Corelle M. Spettigue had this to say about Hunt in her nomination of him for the award:
"Diego Hunt is a dedicated and talented legal professional and an unwavering champion of the Hispanic community. Diego maintains a challenging and successful legal career within one of Denver's most prestigious law firms, yet he still always finds the time to give back to the community. In a profession where it is so easy to excuse yourself, Diego chooses to serve an incredible array of non-profit organizations in varying capacities so as to continue his efforts to assist our community's most vulnerable citizens."
–30–
About CHBA
The CHBA is a local minority bar association comprised of dedicated lawyers committed to improving the life of Hispanics in Colorado. Its mission is to serve Colorado and promote justice by advancing Hispanic interests and issues in the legal profession and seeking equal protection for the Hispanic Community before the law. To that end, it currently serves the interests of the more than 500 Latino legal professionals in Colorado, as well as the broader Latino community.
About Holland & Hart
Holland & Hart LLP delivers integrated legal solutions to regional, national, and international clients of all sizes. Since its inception in 1947, Holland & Hart's more than 470 lawyers have consistently been recognized by leading national and international peer and industry review organizations for innovation and dedication to the practice of law. For more information, visit http://www.hollandhart.com.