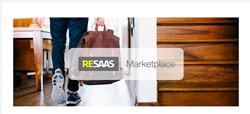 "We are thrilled to have ReaLync join the RESAAS Marketplace as one of our Partners," said Danielle Sissons, VP of Communications at RESAAS.
Chicago, IL (PRWEB) January 12, 2015
Launching its Marketplace in the Summer of 2014, RESAAS sought to introduce agents to products and services that could help enhance their business. RESAAS has developed relationships with leading companies servicing real estate professionals, such as Uber, DocuSign, and DotLoop, and recently partnered with cloud-based real estate touring platform ReaLync to bring the company's real time video solution to agents.
ReaLync, a real estate focused cloud-based platform that enables live virtual property tours and agent interaction, is the first technology of its kind for the real estate industry and the first touring technology to join the RESAAS Marketplace. ReaLync's platform, which can be downloaded via the App Store, enables agents and brokers to host live virtual tours and open houses, as well as create pre-recorded videos for their clients, all using nothing more than their smartphone or tablet.
"We are thrilled to have ReaLync join the RESAAS Marketplace as one of our Partners," said Danielle Sissons, VP of Communications at RESAAS. "The ultimate goal of the Marketplace is to help agents and brokers do more business, so with the addition of ReaLync and its unique product, we will do just that."
ReaLync launched in the RESAAS Marketplace on January 9th offering a variety of discounts to RESAAS users. ReaLync's technology offers a new and innovative way to interact with real estate. Therefore, the team will offer educational resources to agents adopting their technology with a focus on collecting feedback, celebrating successes, and identifying potential new use cases within the real estate market.
Matt Weirich, co-founder and CEO of ReaLync said, "We are honored to join the RESAAS Marketplace. The RESAAS team has a great eye for what tools and technologies agents are using or could benefit from, so we are very excited to be included as a solution they believe in and trust.
RESAAS' global reach includes over 93 countries and continues to grow at a rapid pace. Similarly, in just over four months on the market, ReaLync has secured users in over 10 countries and expects to double that number in the next three months.
Weirich commented, "ReaLync's technology adds significant value to transactions when distance is a barrier. Entering global markets is a big priority for us in order to help make the world smaller and to allow anyone to have a live, personalized tour of a property no matter where in the world they are."
About ReaLync
ReaLync is a web/mobile platform that enables live virtual tours of real estate, providing buyers/renters a more efficient, convenient, and cost-effective way of touring properties. ReaLync transcends the photos and slideshows of yesterday by making property touring mobile, real time, and highly interactive. Learn more at http://www.realync.com and try it today in the Apple App Store.
About RESAAS Services Inc.
RESAAS is an Enterprise Social and Global Referral Network for licensed Real Estate Agents, REALTORS©, Brokers, Franchises and Associations. RESAAS' powerful reblasts© engine automatically converts real estate activity into social marketable content, which is also pushed to other social networks, to generate leads. Visit http://www.resaas.com.