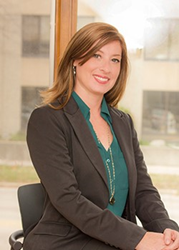 We are excited to have Heather join the Resource 1 team. Her experience in the staffing industry, technical skills and drive to excel will be a huge asset to our organization
Chicago, IL (PRWEB) January 09, 2015
Resource 1 has announced the hire of their newest team member, Heather Anderson. Heather brings over 12 years of proven success in cultivating relationships and building partnerships with business executives across the Chicago Metropolitan area. This has led to her position as an Account Executive on the Enterprise Services team with Resource 1. Over the years, Heather has earned a reputation for her professionalism, honesty and high level of integrity which in turn has earned her clients' trust and loyalty. "I'm excited to be starting a new phase in my career with Resource 1. I was drawn to them as an employer because of their dedication to putting clients first, their longevity in the industry and commitment to quality. I'm excited to get started!"
Heather started her career as an Account Manager with a consulting firm located in the Chicagoland area. She quickly learned that the best relationships are built by communicating effectively and delivering a consistent quality customer experience. Client feedback notes her strong listening skills and ability to gain a clear picture of the company's technical environment and corporate culture, ultimately leading to successful placements. Heather also has experience at a Fortune 200 company where she collaborated with hiring managers to develop sourcing strategies to attract top talent.
Anastasia Valentine, Executive Vice President and Managing Director of Resource 1 says, "We are excited to have Heather join the Resource 1 team. Her experience in the staffing industry, technical skills and drive to excel will be a huge asset to our organization."
Heather is native to the Chicagoland area and she enjoys spending time with her husband and two sons. Heather is also passionate about biking, yoga and vacationing in Michigan.
If you are interested in learning more about Heather and Resource 1, click here to view more.
About Resource 1
Resource 1 is an established Information Technology consulting firm that has been providing staff augmentation solutions for Fortune 1000 companies across North America since 1982. They provide a broad range of IT consulting services including full life-cycle application development and systems level support/integration.
Technologies we recruit for:

Unix, Linux, Windows, HP NonStop, Mainframe, AS/400 (iSeries)
Java/J2EE, .Net (C#, VB.Net, ASP.Net, ADO.Net), C, C++, COBOL, SCOBOL, TAL, RPG
Web Services (SOAP/RESTful)
OBIEE, SSRS/SSIS/SSAS, Cognos, Business Objects, Hyperion, MicroStrategy, SAP, Netweaver
Oracle, MS SQL Server, DB2, MySQL, Teradata, NonStop SQL/MX, NonStop SQL/MP, Enscribe
VMware, Hyper-V, SAN (EMC/HP), BladeLogic
HTML5, Objective-C, UI/UX, iOS, Android
BASE24 ATM, BASE24 POS, CONNEX, Phase3, SIS, GE Carecast/Centricity, GoldenGate, Data Express, Prognosis, XYGATE, iTP WebServer, MoneyNet