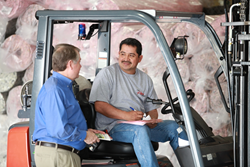 "Just knowing that Marketplace Chaplains are walking into our offices every week or several times a week gives our employees a chance to unload and speak to someone. Fred Caldwell, CEO The Caldwell Companies
Plano, Texas (PRWEB) January 12, 2015
Trends for 2015 and Workplace Depression Study Showcase the Need for Workplace Chaplaincy
Two new studies for business trends in 2015 and workplace depression mirror the need for the unique strategic initiative of Marketplace Chaplains, the country's largest and original workplace chaplaincy organization, which provides help and hope to stressed and/or depressed employees in today's workforce.
A recently released article in FORBES Magazine listing the top 10 business trends that will drive success in 2015 found, "Savvy companies will realize that people matter," according the article by author Shelly Dutton. 70% of workers in the U.S. and 87% of workers worldwide are not fully engaged and personally invested in their work.
"You hired great people, it makes sense to invest in them to retain them," said Tim Hawkins, founder of LT Business Dynamics who was quoted in the FORBES trend story.
Marketplace client company, Pioneer Natural Resources, which was recently named as the "No. 1 Best Places to Work in North Texas," by The Dallas Morning News, has the same philosophy, and began using Marketplace Chaplains in early 2012 as a result.
"The significance of Marketplace Chaplains is we are taking an extra step in telling people we care about them (by using the chaplains), and that transcends winning a nice trip," said Pioneer Vice President Paul McDonald.
The Irving-based company has several thousand employees working in often extreme conditions, in the booming oil fields all over the Southwest.
"In working with our field people, if I don't hear anything than everything is working well, they just don't call or e-mail to give positive feedback, however Marketplace Chaplains has been the exception to that rule, as I have received positive feedback," added Pioneer VP Larry Paulsen.
A second 2015 trend-setting study profiles the professions which have the most depression in their field. The journal Social Psychiatry and Psychiatric Epistemology 2 listed 55 different professions and varying levels of depression for each. Employees in the real estate profession were listed as having the second highest level of depression at 15.8%.
CEO Fred Caldwell of client-company The Caldwell Companies, a large property management and real estate company based in Houston, Texas, said having Marketplace Chaplains has alleviated some of the stress with his employees.
"Just knowing that Marketplace Chaplains are walking into our office every week or several times a week gives our employees a chance to unload and speak to someone they know and trust. Marketplace has been a great benefit to our companies and our employees and their family members as well."
Some of the other real estate companies which use Marketplace Chaplains include Prudential Kahler Realtors in Rapid City, South Dakota, and Coldwell Banker/Jim Stewart Realtors in Waco, Texas.
Of the seven types of businesses the journal profiled as having the most stress in their industry, six of them use Marketplace Chaplains' personalized and proactive employee care service for their companies.
"These new trends and studies for businesses just confirm what our dedicated, trained male and female chaplains are finding in the workplace today. Taking care of your best assets, your employees and their family members makes great people-sense and even better business-sense," said Marketplace Chaplains' Founder Gil A. Stricklin.
Marketplace Chaplains, currently serves 652 clients at 3,437 service locations, in 1,021 cities, 6 foreign countries and 1 commonwealth, caring for over half a million employees and their family members in today's workplace.
About Marketplace Chaplains
For more information on this employee benefit, which has been featured on NBC Nightly News, CNN, Washington Post, the New York Times and Bloomberg Businessweek, visit http://www.mchapusa.com
To arrange an interview contact Art Stricklin, Vice President Public Relations, at artstricklin(at)mchapusa(dot)com or call 1-800-775-7657.
References:
1. http://www.forbes.com/sites/ianaltman/2014/12/09/455/
2. http://www.theatlantic.com/business/archive/2014/12/which-jobs-have-the-highest-rate-of-depression/383947/