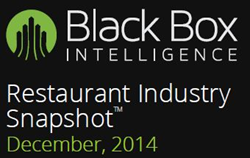 "it was a very encouraging finish to a year that began terribly. Many of the best in class operators made adjustments to prepare to reap the benefits of a much anticipated better environment for revenue growth" - Wally Doolin, TDn2K
Dallas, Texas (PRWEB) January 09, 2015
2014 ended on a very high note for the chain restaurant industry as December recorded the best same store sales in three years. The fourth quarter registered the best same-store sales results reported in six years of Black Box Intelligence tracking. These latest results contributed to the aggregate growth of 0.8% for 2014, a vast improvement over the -0.1% posted in 2013 by the industry. This insight comes from data reported by TDn2K's Black Box Intelligence through The Restaurant Industry Snapshot for December, based on weekly sales from over 20,000 restaurant units representing over 45 billion dollars in annual revenue. For the first time, this Restaurant Industry Snapshot includes data from the newest TDn2K brand, White Box Social Intelligence.
"The relatively strong performance experienced during 2014 was somewhat tempered by the weather-induced drop in sales during the first quarter of the year, which was the worst quarter for the industry since Q2 of 2010. Excluding this first quarter, same-store sales grew at an average 1.3% during the rest of the year, reflecting the current upswing in consumer optimism and the resurgence in the strength of some key economic indicators," commented Victor Fernandez, Executive Director of Insight and Knowledge for TDn2K.
Same-store sales growth was 3.1% during December, an improvement of 1.6% over November's growth rate. This was the best month for the industry since January of 2012 and the sixth consecutive month with positive growth, a first for the industry in over three years. "Further evidence of the strength of the industry during the year is found in the fact that nine of the ten months since March posted positive same-store sales growth" continued Fernandez.
Fourth quarter's same-store sales grew by 2.5%, an increase of 1.1% from the growth experienced during the third quarter. The last time the industry experienced three consecutive quarters of positive same-store sales was in the period ending with the third quarter of 2012. "Performance during Q1 of 2015 is expected to be positive based on current economic and consumer trends and the fact that sales were so weak during the first quarter of last year. However, as was the case in 2014 the winter weather could play an important part reversing this trend." expressed Fernandez.
Another very encouraging sign for the industry was shown by same-store traffic growth at the end of the year. Traffic grew by 0.6% during December, the best month for the industry since February of 2012. For the first time in over three years the industry did not experience a decline in guest counts. Same-store traffic growth was 0.0% during the fourth quarter, a 1.0% improvement from the growth reported for third quarter and the second best quarter in six years of Black Box Intelligence reporting. The increases in same-store traffic mirror the jumps in same-store sales, meaning that it was a true improvement in sales fueled by attracting more guests into restaurants, and not just the effect of rising prices.
The improvement in sales has been widespread across the country with all 11 regions posting positive same-store sales during the fourth quarter; which has not happened in any other quarter over the last three years. This trend continues at the individual market level where 167 (87%) of the 192 DMAs tracked by Black Box Intelligence reporting positive same-store sales during December.
This December Restaurant Industry Snapshot includes data measuring restaurant guest satisfaction obtained through White Box Social Intelligence. This new brand provides a set of tools designed to measure online brand activity, provide consumer-based insights into online brand health and analyze the correlation between social and operational metrics. During December, White Box Social Intelligence collected approximately 1.2 million online mentions from over 20,000 restaurant locations.
Utilizing a set of three key performance attributes (food, service and intent to return) we found that the vast majority of online mentions are based on food items (88% of all mentions), while only 8% of the mentions are related to service and 4% cover intent to return to the restaurant brand mentioned. Not only is food the attribute that was most commonly mentioned, but is also the one that generates the greatest percentage of positive comments vs. negative or neutral (31% of comments mentioning food are positive).
In terms of change in the three attributes month over month, restaurants improved in food and intent to return, but dropped in service positive mentions. The industry segment that gets the highest percentage of online positive food-based comments is Upscale Casual/Fine Dining. Mentions about service generated 30% positive comments with Casual Dining leading the other segments. Intent to return was 25% positive with Upscale/Fine Dining the leader in this important attribute.
Regarding the restaurant workforce, the industry keeps creating new jobs at an accelerated pace. Those brands tracked by People Report posted a 4.1% year-over-year growth rate in number of restaurant jobs during November, a slight slowdown from the 4.3% growth reported for October. This small drop notwithstanding, the industry has been growing at a pace of over 3.0% year-over-year for more than a year and reflects the expansion through unit growth strategy seen recently, especially in those rapid growth segments such as fast casual. Adding to the challenge of recruiting all of these new employees, the industry continues to face rising turnover levels for both restaurant managers and hourly employees. Median turnover for hourly employees has maintained levels above 100% in several industry segments, clearly a signal that the post recession lull in workforce pressures is definitely over.
Expectations for the first half of 2015 persist for continued job growth, new unit openings and increasing turnover levels in restaurants, as well as rising labor costs as a result of minimum wage adjustments and implementation of new health care plans as defined by the Affordable Care Act.
Wallace B. Doolin, Chairman of TDn2K added "it was a very encouraging finish to a year that began terribly. Many of the best in class operators made adjustments to prepare to reap the benefits of a much anticipated better environment for revenue growth we hope we face in 2015. Clearly the consumer is reacting with more confidence based on a number of factors not the least of which is fuel cost impact on disposable income. We are optimistic that those best in class operators will benefit in 2015."
The Restaurant Industry Snapshot is a compilation of real sales and traffic results from over 190 DMAs representing 110+ restaurant brands and over 20,000 restaurant units that are clients of Black Box Intelligence, a TDn2K company. Data is reported in five distinct segments: casual dining, upscale/fine-dining, fast casual, family dining and quick service. TDn2K is also the parent company to People Report and the new White Box Social Intelligence. People Report tracks the workforce analytics of one million restaurant employees. White Box Social Intelligence delivers consumer insights and reveals online brand health in relation to operational metrics. TDn2K reports on over 30,000 restaurant units, one million employees and 45 billion dollars in sales.