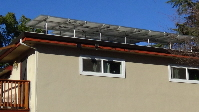 EarthCalm joins environmentally-conscious Chico Community by going solar.
Chico, CA (PRWEB) January 13, 2015
EarthCalm, worldwide leader in producing EMF protection products, is proud to announce that its office building has just gone solar.
In keeping with its environmentally friendly and healthy focus, EarthCalm has had eleven solar panels attached to its roof, plus another seven to a shade structure. Everything in the building, including a number of computers, is being powered by the panels.
"This is really an important step," stated Jean Gallick, owner and inventor of EarthCalm EMF protection devices. "Not only is the company saving on utility costs, it's actually giving energy back to the community—up to 20% of the power captured by the panels." EarthCalm's smart meter now shows power that is being delivered, rather than received.
The system used was a Sunpower System, produced by Alternative Energy Systems, a company that has grown 300% this last year, indicating a growing concern and interest in solar in the Chico, California community.
About EarthCalm
For more than 30 years, EarthCalm® has provided EMF protection devices to hundreds of thousands of customers worldwide. These products contain revolutionary Living Earth Technology developed by Jean Gallick. Using proprietary geometric circuits which mirror the structure of the earth's electromagnetic field, this technology amplifies a person's resonance with the Earth, thus providing protection from manmade EMFs.
Contact:
EarthCalm Media Relations
Web: http://www.earthcalm.com/about-us/
Email: pj(dot)earthcalm(at)gmail(dot)com
Tel: 1-800-474-2584
###