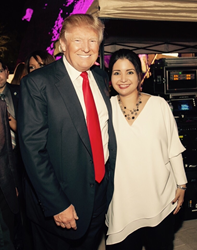 "We expected to be opening in New York or Paris, but Brickell, Miami "is trending," as they say" added Karina Gamez, Karigam CEO and Chief Creative Officer
Miami, Florida (PRWEB) January 14, 2015
After carefully considering New York, Milan and Paris for her primary business location, Karina Gamez, Karigam's founder, has chosen downtown Miami - Brickell, for her company's world headquarters. The sleek new offices are being primed to launch Karigam as the newest luxury fashion brand specializing in affluent women's luxury apparel. The plans are for Karigam to formally launch its brand, apparel collection, and e-commerce website, in June of 2015, and a brick and mortar store sometime the following year, in New York and Miami.
The initial fashion line will consist of approximately 30 pieces and launch with an exclusive, discerning, digital consumer in mind along with select U.S. retail partners.
"Our other enterprise, Airemark Industries, has been operating very profitably from our office in Miami, for several years, but we always thought of it as a necessary location for logistical management in shipping our electronics products to all points in Latin America and the Caribbean," commented Karina Gamez, GM of Airemark and Founder - CEO of Karigam Enterprises. "Because Karigam Fashion is designed for affluent US, European, Asian and Latin American business women, we expected to open our base of operations in Paris, Milan or New York," said Ms. Gamez. "We interviewed an extensive list of major NY fashion agencies, this past November, expecting to be based up there." "But Brickell is 'trending' as they say, and in a very positive way for fashion design" commented Ms. Gamez.
Another sure indication for Karigam that Miami is the right choice "and trending", occurred this past week, during the kick-off festivities of the Miss Universe Pageant, taking place this weekend in Doral, Florida. Karina Gamez joined Donald Trump and locally influential entrepreneurs for the kick-off celebration, where Karina shared insights about her new brand and the potential for Miss Universe contestants to possibly serve as models for the Karigam brand, globally.
Ms. Gamez is quick to note that the Karigam label is not skipping any necessary steps-of-entry from the normal protocol of the fashion industry whatsoever. "We've been very fortunate to find some incredibly gifted production designers, seamstresses and marketers based here in South Florida," said Karina. "While our initial line will be formally introduced to NY and the fashion world during New York's Spring/Summer Fashion Week, later this year," continued Karina, "we'll definitely be doing a lot of special things here in Brickell and throughout Miami, much earlier."
Note: Karigam is conducting an advanced launch of their exclusive apparel line in Miami, in June, and is interviewing models, photographers and make-up artists for local shows and VIP events.
About Karina Gamez:
Karina Gamez is the Founder, CEO and Chief Creative Officer of Karigam Enterprises, Karigam Global Entertainment and General Manager for Airemark Industries, LLC. An international entrepreneur, Karina Gamez grew up in Venezuela contributing to every aspect of her family's successful import/export businesses: starting in operations and logistics, then later managing finance and personnel. Ms. Gamez transferred to the US as General Manager in charge of Airemark's US and global operations, where she is credited with leading Airemark Industries LLC to unprecedented growth; expanding the company's business portfolio and overall profitability. Karina Gamez studied Business Administration and Fashion Design and launched Karigam Enterprises inspired to design clothes for women like herself: young, successful, affluent, confident, global, fashionable and techno-savvy.
About Karigam Fashion:
Karigam designs are inspired by business, travel and cityscape architecture. The result is a fusion of elegance, simplicity, versatility, quality and strength. Karigam designs contribute to a successful woman's lifestyle: a life that must adapt instantly to opportunities, and a woman whose personality, good taste and individual creative sensibilities do not require traditional rules of fashion engagement. Karigam's pant and jacket silhouettes go as well with evening heels as with sandals. Karigam colors are equally as versatile, simple and elegant; primarily black and white with some monochromatic tossed in for that architectural hue that blends Madison Ave. and La Guardia by day; and 5th Ave. or NY's meat-packing district by night. A Karigam jacket completes a T-shirt, ripped jeans and black heels ensemble as elegantly as it did the mid-calf skirt or matching slacks that were worn for her morning's presentation.
Karigam is dedicated to dressing successful women in stylish, innovative, trend-conscious, impeccable yet practical, business-inspired, luxury fashion. Karigam is designed to be a part of a woman's professional life, reward her achievements, and inspire her to do her life more fully and look her best living it.