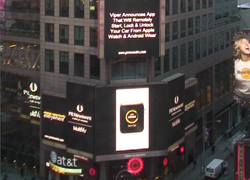 San Diego, CA (PRWEB) January 09, 2015
Award-winning digital innovation agency MJD has partnered with Viper, the 30-year leader in car security, to develop a new and improved version of Viper SmartStart, the app that gives users the ability to start, lock, unlock and track their car from virtually anywhere in the world through their mobile device. A major new feature of the app is a wearable application that gives users the ability to control their car simply by talking to their smartwatch.
"We redesigned the interface of the application to modernize the automatic car start feature, add wearable functionality, and display connected car status information in an interesting way," said Michael Maginnis, MJD's president. "It required an overhaul of the app's design to be better suited for new vehicle status screens such as door lock status; additional GPS based features such as finding a lost car in a parking lot; and the addition of the wearable companion app."
"Working with a well known brand like Viper on adding both connected car and wearable product features is exactly the kind of partnership we strive for," said Maginnis. "The Viper team was great to work with and we look forward to working with them to move this technology forward".
The new wearable application will be available for Android Wear and Apple Watch in early 2015 and was introduced this week at the annual International Consumer Electronics Show (CES) in Las Vegas. More information and a video about the Viper SmartStart can be found at http://www.viper.com/SmartStart/New. Viper SmartStart 4.0 is compatible with all Viper SmartStart hardware, which means all existing and future Viper SmartStart users who purchase an Apple Watch or Android Wear product will be able to take advantage of the smartwatch features at no additional cost.
The Viper SmartStart application is the latest digital product release from MJD, which in 2014 won raves for Stride Rite's RiteFit application, which accurately measures children's feet through a free iPad application. The agency also turned heads with digital product development for Oakley Airwave goggles, the heads-up display eyewear for skiers.
ABOUT MJD
MJD is building the new digital world around us. MJD creates award winning digital experiences and products across web, mobile and experiential platforms that engage, inform and drive results. Their unique focus on user experience, creative design, and technology innovation has enabled them to work with some of the world's best known brands and cutting edge start-ups. Clients include Oakley, Disney, Red Bull, P&G, Grammy's, Falken Tire, Stride Rite, Legendary Pictures, Vail Resorts, and Qualcomm. Visit http://www.mjdinteractive.com to learn more.
About Viper
For 30 years, Viper has been a world leader in automotive electronics. Viper protects and remotely starts more vehicles than anyone else on the planet. Viper created the connected car category with the launch of Viper SmartStart in 2009 – the app that lets you start, locate and control your car from virtually anywhere in the world with your smartphone. Recipient of hundreds of technology patents and awards, the company is based in Southern California. Visit http://www.viper.com or follow our social: @vipersmartstart, facebook.com/viper, youtube.com/vipersmartstart.