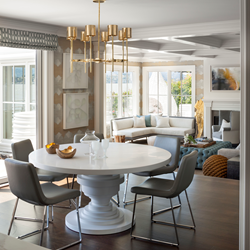 San Francisco, CA (PRWEB) January 09, 2015
Join Lindsey Thudin of Houzz--the leading platform for home remodeling and design--with award-winning interiors photographer David Duncan Livingston for Technology for Storytelling: How to Reach New Clients and Engage a Global Community. The two-hour seminar is geared towards design professionals eager to expand their online presence and cultivate a signature digital brand. On Wednesday, January 14th, the pair will present a two-part seminar covering how to visually tell the story of a design brand through fabulous photography and a fully optimized Houzz profile.
For the first hour, Thudin will outline how to streamline client communication, build and engage an online community, and generate new business on Houzz. For the second hour, Livingston will divulge insider tips on how to best photograph interiors, breaking down the process of defining your digital brand, planning a photo-shoot, and editing and posting images online.
The seminar will be held on January 14, 2015, from 11-1pm at Coupar Consulting's Tête-à-Tête Lounge located at 101 Henry Adams Street, Suite 416, San Francisco, CA. There will be a $15 registration fee and all of the proceeds will be donated to the Draw Bridge Foundation, an organization that provides underprivileged and homeless children access to art programs to foster creativity and community. Please RSVP online via https://techforstorytelling.eventbrite.com/
About Houzz
Houzz.com is an innovative online design resource that curates decor images, connects design and construction professionals with clients, and serves as the leading online community to share styling tips and ideas. Houzz has over 25 million monthly unique visitors and features over 600,000 active home remodeling professionals.
About David Duncan Livingston
David Duncan Livingston is a renowned interior, architecture, and lifestyle photographer based in Mill Valley, CA. With over a decade of experience, Livingston's work has been the focus of numerous interior design books that include San Francisco Style, California Country Style, Hawai'i: A Sense of Place, and The New City Home, Patterns of Home. With an eye for style and striking compositions, Livingston is an industry leader and icon.
About Coupar Consulting
Established in 2007, Coupar Consulting is a full-service business consulting firm exclusively for the interior design industry. They work with creative talent, helping turn a client's passion into a profitable business. Whether starting small or overwhelmed by growth, interior designers come to Coupar Consulting to strategize, build, manage, analyze, and design. Utilizing the latest technology platforms, they take a business's pain points and turn them into success stories.
Visit Website: http://www.couparconsulting.com/