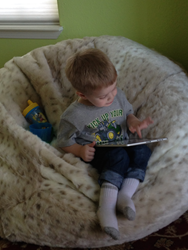 We decided to make KidMod 100% Ad-Free for kids sake!
New Mexico (PRWEB) February 04, 2015
Moms and dads are always accompanied by two entities these days, their kids and their cellphones. All too often waiting time can turn into cranky time if children are asked to sit with idle minds, but handing them the phone was always a cause for hesitation due to the risk they would call someone accidentally or take pictures incessantly. Now, thanks to KidMode.org, there is a terrific new app for kids to download right now to give children access to educational games and activities that mimic real smartphone features anywhere they go. It was designed by a stay at home dad, David MacEwen, more commonly known as Keith's Dad, to give his son a safe and ad-free app to play with.
"When we designed KidMode we had two goals in mind," said Keith's Dad. "We wanted it to be a fun and engaging set of activities, but we also wanted it to be an introductory way to help your child become properly oriented to the kinds of technology that they will be using throughout their lives. That's why we created mini-games that improve their ability to focus and simplified versions of the phone and camera that allow them to pretend they are using the phone's full capabilities without exceeding the permission a parent grants to them. We also know the frustration caused by the constant bombardment of ads put in front of children and that's why we decided to make KidMod 100% Ad-Free for kids' sake."
Children today are growing up in a world where almost every person they meet has a telephone, camera, calculator, email system, navigational GPS and more right in their pocket. As the KidMode App continues to evolve, it will add new activities and mini-games to help kids make sense of all of these wonderful technologies in a safe, responsible and fun way. Learning to make a phone call, take a picture, use a map or tally numbers electronically will be the same kind of core skills in their lives that jotting notes down with a pencil was in their parents lives years ago. The first step toward gaining these skills is becoming comfortable and familiar with the technologies that are ubiquitous in their daily lives and that's exactly what KidMode is all about.
Kidmode can be downloaded from the http://www.KidMode.org website to learn about the proactive charitable endeavors of the company which are fueled by 5% of all App Sales, hear the story of how a stay-at-home dad first dreamed up these ingenious activities and become part of the KidMode community online. Download the App directly from the iTunes App Store with an Android version already in the works.