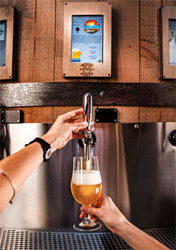 As food and beverage margins continue to get squeezed, iPourIt represents a true paradigm shift in beer and wine dispense.
Orange County, CA (PRWEB) January 12, 2015
iPourIt (http://www.ipouritinc.com), the award-winning, self-serve draft beer and premium wine on tap system, which relies on its patented technology to provide its customers with higher revenue, lower operating costs, detailed data, and better patron experience and engagement, today announced that it has closed the initial tranche of its second round of funding, bringing the total amount of financing raised to almost $2 million.
Led by Tech Coast Angels, a group of three angel groups participated in the Series A-1 round, which also included Pasadena Angel and Harvard Business School Alumni Angel networks. With its sights set on a rapid expansion through a dedicated reseller network across the United States, the funding will also generate new job opportunities and enable an aggressive roll-out of enhanced features and capabilities on the iPourIt platform.
"We've been working with iPourIt for months – and have watched the company continue to expand and enhance their client offerings through development of native POS, digital display board technology and satisfied customers and resellers," said Jiri Modry of Tech Coast Angels. "As food and beverage margins continue to get squeezed, iPourIt represents a true paradigm shift in beer and wine dispense – as a board member, I wanted to be a part of something that truly resonates with clients and the end-user, which iPourIt is achieving."
Part of Tech Coast Angels' desire to invest with iPourIt was iPourIt's relationship with Peter Muzzonigro, who agreed to assume the role of non-Executive Chairman. Peter has spent more than 50 years in the beer dispensing business, served for 26 years as President of Micro Matic USA, building it to be one of the pre-eminent manufacturers, distributors and supporters of draft beer and wine on tap in the United States and is still its Chairman. "I chose to work with iPourIt because I was attracted to the passion and ability of its founders, but I also saw the opportunity to help revolutionize a market by imparting my knowledge of the industry. At this point in my life, I want to give back and share my experience to help other entrepreneurs achieve their goals."
While self-serve beer and wine dispense are at the heart of the iPourIt solution, iPourIt is also focused on its ability to track and use valuable data about patrons, such as preferences and demographics to provide real-time feedback, digital loyalty programs and marketing data. The iPourIt system leverages consumer desire for variety, sampling, an ever-expanding selection of craft beer and "what you want – when you want it" instant gratification to motivate consumers to return again and again to client locations.
An astonishing 23% of draft beer nationally is never charged to patrons either as a result of over-pours or give-aways. Because iPourIt monitors every drop from client faucets, such shrinkage can drop to 0%, which is especially valuable as the volume and cost of craft beer continues its meteoric rise. In fact, craft beer has had compound, double digit, annual growth for 7 consecutive years and is expected to reach almost $15B in 2014 of the $100B annual U.S. beer market.
iPourIt's seamless and secure system tracks every pour, provides daily reporting, downloads it to a patron's personal beer page, and runs credit and debit card transactions and activity, so that consumers simply pay their bill as they normally would while providing detailed analytics on the back-end. iPourIt was developed exclusively in-house by its CTO, inventor and co-founder, Brett Jones, with the intention of shifting the paradigm of beer and wine dispense on a grand scale that hasn't happened in more than a century. The company is also developing location-based mobile apps for iPhone and Android, so that patrons can track, rate, and share beers, and close tabs from their smart phones.
"Like millions of people, I always want to try new and interesting beer and wine when I dine out without the necessity of buying an entire pint or bottle, but, was never able to do so," said Brett Jones. "We created iPourIt with the purpose of making the experience more fun for everyone and ultimately developed a technology that has far more value to our clients than we ever imagined by driving average pint prices and margins higher while reducing staff and shrinkage."
Launched in October 2012, iPourIt has secured 37 clients in 19 states and 2 Canadian provinces. Approximately one million ounces of beer and wine flow through iPourIt's system each month and almost a quarter million unique users have poured on the system since its inception.
"We've proven that the iPourIt model works – and with this substantial infusion of new funding, we'll be able to evolve to the next stage as a company by expanding our sales and marketing and relentlessly focusing on innovation to continually improve the experience for our clients and their patrons," said Joseph McCarthy, CEO.
About iPourIt
iPourIt is an interactive, on-premises, self-service beer & wine experience promoting consumer choice and sampling to increase revenue and drive profitability through lower operating costs, while also providing detailed data for targeted marketing and loyalty programs. iPourIt was founded in 2012 and generates revenue through system sales and recurring software fees of $.01/ounce of beer and wine poured through its system. iPourIt is the proud recipient of OCTANE's First Look Award and Protolab's Cool Idea Award. To learn more, visit http://www.ipourit.com or https://www.facebook.com/iPourIt