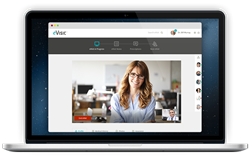 "I've built some exciting companies, but nothing yet that changed the world. eVisit will do just that, and I'm excited to get in and help make that happen." - Miles Romney
Phoenix, Arizona (PRWEB) January 09, 2015
eVisit, a telemedicine software company delivering an innovative patient engagement telehealth platform, welcomes Miles Romney as Chief Technology Officer (CTO). With his exceptional track record in scaling start-ups and developing revolutionary tech products, Romney is ready to position eVisit as a disruptive telehealth software that changes the healthcare delivery paradigm.
"I see the cost and availability of healthcare as one of the world's top two challenges," said Romney. "I've built some exciting companies, but nothing yet that changed the world. eVisit will do just that, and I'm excited to get in and help make that happen. Getting doctors to more people for less money—that's the big story here."
Previously, Romney was the co-founder and CTO of Radiate Media, named the "fastest-growing company in Utah" by MountainWest Capital Network. He also developed the first suite of clinical and patient management tools for wireless devices, a technology later acquired by Blue Cross and Blue Shield of South Carolina, and developed HIPAA-compliant data transmission and authentication products that placed ARCANVS, Inc. on Gartner's "Top Ten Most Visionary Companies in Information Security." Romney is an accomplished presenter, panelist, and guest lecturer in the IT field, and publishes regularly through IEEE, ICSTC and elsewhere.
"As a proven entrepreneur and technology leader, Miles has a track record of developing and scaling early-stage, high-growth startups from launch to millions of users," said eVisit co-founder and CEO Bret Larsen. "It isn't easy to find someone with executive-level product development experience, a deep understanding of the challenges faced by healthcare technology startups and a commitment to product excellence. My co-founder, Glen McCracken and I couldn't think of a better addition to the founding team to help us build eVisit into a company that will transform the traditional healthcare delivery model."
About eVisit
eVisit is a patient engagement telehealth software platform for SMB healthcare providers. The software allows healthcare providers to connect with and treat their patients remotely and facilitates reimbursement for telemedicine visits. eVisit is transforming the healthcare delivery model and disrupting the $135 billion dollar primary care delivery market by providing physicians a tool to recapture patient visits from urgent care and emergency room facilities. Physicians reclaim lost revenue from missed appointments and patients receive high-quality care while at work, home, or on the road, from the doctor that knows them best.