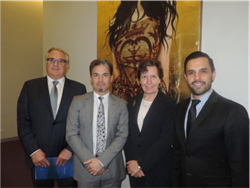 Tijuana, Mexico (PRWEB) January 09, 2015
The delegation included representatives from the French embassy in Mexico like Emilio Piriz, Commercial Attache at the Embassy, Ubifrance in Mexico Director, Phillipe Garcia, the French Honorary Consul in Tijuana, Mr. Padilla Fitch, and was led by the French Ambassador to Mexico Maryse Bossière. With the Ambassador came representatives of the French renewable energy company Total and of the Electronic Sector the French company Schneider Electric.
During a press roundtable, Ambassador Bossière commented that this year marks the 50th anniversary of Charles de Gaulles´s first visit to Mexico. She added that during President François Hollande's official visit to Mexico in April, 43 treaties were signed with the aim to foster economic development, innovation and education between the two countries.
During their visit, the delegation met with Tijuana`s Mayor and attended the forum "France and Baja California Innovate" as a way to share innovation experiences as well as common challenges. The delegation met with members of the urban development and renewable energy industries as well as representatives in the fields of professional service, education and culture.
After the forum, Tijuana EDC held a meeting to discuss business development opportunities in Tijuana, highlighting the city´s leading position in high technology industries such as aerospace and medical devices. Christian Tagliaprieta, Tijuana EDC´s vice president, commented that Tijuana holds the largest number of firms and highest numbers of employees in Mexico, for both sectors.
The presentation also mentioned successful operations of French companies in the city such as Zodiac Aerospace, Shneider, Asteel Flash, Saint Gobain, and Custom Sensors & Technologies, which runs a financial services office in Tijuana.
As a next step France Commercial Service in Mexico, Ubifrance, is organizing a business mission in March 2015, inviting French manufacturing companies looking to supply to the local industry. If you need more information on the mission contact the Tijuana EDC.