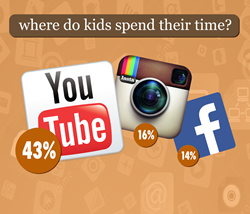 curbi shows where children really spend their time online
Perth, Australia (PRWEB) January 13, 2015
Based on the mobile internet usage of thousands of children across the world, curbi has found that Instagram is now the leading social network for children.
Youtube takes out top spot as the most popular site for children, while Clash of Clans makes it into sixth position as by far the most popular game.
Spotify slides into 8th spot, with Pandora close behind showing that streaming music is well and truly established for the younger generation.
The 2014 top ten from curbi are:
1. Youtube
2. Instagram
3. Facebook
4. Google
5. Twitter
6. Clash of Clans
7. Netflix
8. Spotify
9. Pandora
10. Yahoo
All usage details were obtained through analysis of de-identified usage records in accordance with the curbi Privacy Policy.
Full details of the curbi 2014 Year in Review can be found on the curbi Blog.
About curbi
curbi is the leading parental control service for iPhone, iPad and iPod Touch today. curbi offers parents peace of mind through simple time limits, effective blocking of inappropriate content and detailed reporting.