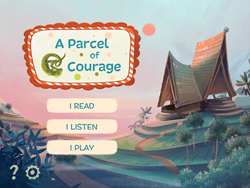 A Parcel of Courage" is meant to help families use new technologies as another tool to raise well-balanced children with kind hearts, rich creativity and the ability to use their brains full potential.
Moscow, Russia (PRWEB) January 21, 2015
Developed by the MoonaGroup, "A Parcel of Courage" is a new type of interactive picture book created for parents who want to connect emotionally with their 3- to 6-year-old children as well as provide them with some brain-training activities both for the right- and left-brain hemispheres. While many educational apps concentrate on building intellectual skills, "A Parcel of Courage" is meant to help families use new technologies as another tool to raise well-balanced children with kind hearts, rich creativity and the ability to use their brains to their full potential.
The fresh interactive picture book "A Parcel of Courage" brings families a whole new reading experience, inviting them to help three little boys and their granny overcome distance and unlock a magic ritual for making their own wishes come true! Children can enjoy slow reading, playing inside the story and going deeper with "I Play" mode, which provides them with an additional original set of four balanced educational games for both the right and left brains as well as a wonderful dreamy reward - a stunning airship.
"We noticed that kids especially enjoy games Post and Suitcase built into the book. Therefore, we went deeper with them and designed four amusing brain-training games developing logic and spatial reasoning abilities, basic counting skills and the right brain's photographic memory," says Maria Stravinskaya, play designer and co-founder of MoonaGroup. "We are especially happy with our Mandala exercise that is based on the Shichida Method known as 'Soul Education' and is meant to cultivate a child's heart, love of others, dreams, and will. At the moment the method is undeservedly underrepresented on mobile apps for kids, and as parents, we are very motivated to continue to adopt the best practices of the Shichida Method in our future apps."
The book follows the lives of three ordinary boys who dearly miss their much-loved Grandma, and how they plan to see her once again. Page by page, the readers help to take the story to its happy end. It is a cute, engaging story full of tenderness and love, designed to help children develop their dreams and determination, as well as instilling the importance of showering their grandparents and other family members with a lot of love, whether they live across the globe or down the street.
"This is our first app for children," says Maria Stravinsky, co-founder of MoonaGroup. "Inspired by our own story, we created 'A Parcel of Courage' with our three children with the goal of getting our granny, who has a strong fear of planes, to join us at the other end of the world. It worked! We plan to share this 'strategy' with other families. We would like to thank all the grannies and grandpas out there for all the love, affection and care they give to this world and especially to their beloved grandkids. We hope our app will also encourage families to get closer together."
"A Parcel of Courage" features very attractive artwork inspired by vintage aesthetics, a laconic navigation menu, and an intuitive interface. The app also takes advantage of the gyroscope, front-facing camera, multi-touch screen and retina display.
"A Parcel of Courage" is available at the App Store and Google Play in two versions:
App Store links

Google Play links
Have a quick look at the app in the informative YouTube trailer.
Visit the Media Kit for screenshots and additional resources.
About Moona Group
Moona Group is an international team of developers specializing in children's apps. Moona's work is based on the best practices of Maria Montessori, Makoto Shichida, Gordon Neufeld and other humanity orientated educators, scientists and psychologists. Moona's apps is a result of harmonious combination of the new features of modern multimedia technologies and natural approaches to the human and intellectual potential disclosure of today's children. All Moona's applications are created in close collaboration with their own children.
Visit our website: http://www.moonagroup.com
Become our friend on Facebook: http://www.facebook.com/moonagroup
Follow Moona Group on Twitter: http://www.twitter.com/moonagroup
Media Contacts
Liudmila Lisichkina
pr(at)moonagroup(dot)com