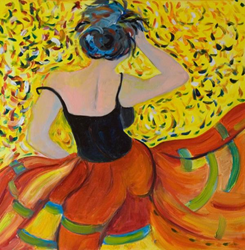 "Those who dance are considered insane by those who cannot hear the music." ― George Carlin
San Rafael, CA (PRWEB) January 10, 2015
The Osher Marin JCC's Performing Arts and Health & Fitness Center join forces to create a great night out during the long winter nights. Shake off those winter blues with a fun-filled dance party from the "J Afterdark".
The Evening kicks off with a lively, fun Salsa class led by the JCC's Zumba instructor Norma Prieto, who also teaches Salsa Dance. DJ Santera will be working the decks keeping everyone dancing under the disco ball.
The bar will be set inside the theater offering beer, wine, soft drinks, coffee & teas and a variety of snacks for sale.
DJ Santero comes from a long family tradition of Latin musicians and Sonidero sound system deejays. He was raised in the mountains, jungles and Atlantic coasts of Central America where he travelled extensively from Guatemala to Panama performing with his father's Salsa & Cumbia bands. He came to the United States at a young age as a refugee escaping the political upheaval that was tearing Central America apart in the late 70's and 80's.
Santero has performed or toured with such artists as Janelle Monae, Damian Marley, Lupe Fiasco, Femi Kuti, Punjabi MC, Ozomatli & Magic System among others. His most recent release EP, entitled Afrika (2014 Baylando Records), is an exploration of the impact African rhythms have had on the music of Latin America. Funky Afro-Beat drums, poly-rhythmic Couper Decaler dance beats & Angolan Kuduro styles blend with Latin percussion & call and response vocals. Santero reaches deep into his Latin roots & African diaspora sensibilities to bring together the best of two musical worlds in this utterly danceable & celebratory release.