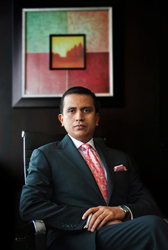 Joining the Alliott Group will enable López and Associates to tap into resources which will help us to access advanced information. -Ariel López
Ecuador (PRWEB UK) 9 January 2015
Alliott Group are pleased to announce that López & Associates a law firm based in Ecuador has joined the Worldwide Association.
Founded in 2002, López & Associates, is one of the leading full-Service firms in Litigation and Complex Advisories in Ecuador, and is headed by Attorney Ariel López, who is considered one of the best attorneys in the country.
The firm offers solid corporate know how, with personalized attention and satisfactory results through the great team of professionals who are highly qualified in different areas, with excellent working relationships with government bodies.
"Joining the Alliott Group will enable López and Associates to tap into resources which will help us to access advanced information and training opportunities. Furthermore there is huge international potential to be involved with innovations and new developments, enabling us to maintain a competitive edge". – commented Ariel López
For further information on López and Associates go to: http://www.lpzlaw.com