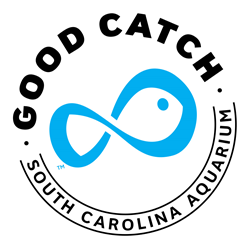 Charleston, S.C. (PRWEB) January 09, 2015
The South Carolina Aquarium will host its first-ever Good Catch Oyster Fest, Friday, Feb. 6, 2015. Beginning at 6 p.m., the evening highlights fresh hand-selected local oysters, locally brewed beer, live music, and delicious food by local restaurants. All at the best event venue in Charleston with an all-inclusive ticket special of $35 through Jan. 21.
The Good Catch Oyster Fest features oysters responsibly farmed by Good Catch partner, St. Jude Farms, right in the ACE Basin, one of the largest undeveloped estuaries on the East Coast. The oysters are hand selected resulting in some of the finest available anywhere. North Charleston based Holy City Brewing's signature Bowens Island Oyster Stout will be on tap, the stout incorporates oysters harvested around Bowens Island resulting in a silky texture and delightful hint of brine. The event will feature local bluegrass band, the Bluestone Ramblers, who will provide live music as guests enjoy delicious oysters and libations while additionally exploring the Aquarium. Those who are not oyster lovers will enjoy tasty bites from Good Catch partner restaurants Pane e Vino, Fleet Landing Restaurant, and Fish. Good Catch experts will also be on hand to discuss oyster sustainability and best practices when dining out and at home.
The Good Catch Oyster Fest has an early bird special through Jan. 21 with all-inclusive tickets for only $35. After Jan. 21 tickets are $40 for non-members and $30 for Aquarium members. To purchase tickets call (843) 577-FISH (3474) or visit scaquarium.org. For more information on the Good Catch Oyster fest click here.
About Good Catch:
Good Catch was developed to heighten awareness of sourcing and selling sustainable seafood – all in an effort to provide consumers, diners and seafood lovers with the information necessary to choose responsibly harvested seafood. The program aims to remind communities that a Good Catch is sustainable – one that is caught or farmed with consideration for the long-term viability of their species and for the ocean's ecological balance as a whole. More than 115 trusted restaurant partners throughout the state continue to share the same mission of selecting species from sustainably managed fisheries.
Fast facts:

Good Catch Oyster Fest takes place Friday, Feb. 6, 2015 from 6:30-10:30 p.m. at the South Carolina Aquarium
Fresh local oysters from St. Jude Farms
Delicious beer options from Holy City Brewing including the Bowens Island Oyster Stout
Tasty bites from Pane e Vino, Fleet Landing Restaurant, and Fish
Live music from the Bluestone Ramblers
$35 Early Bird ticket price through Jan. 21, After Jan. 21 tickets are $40 non-members, $30 Aquarium members
For more information on the Good Catch Oyster fest click here
A portion of the proceeds benefit Good Catch. For more Good Catch information, visit scaquarium.org/goodcatch. One small change can make a big difference in the future of our oceans.
For all media inquiries, please contact Kate Dittloff at (843) 579-8660 or kdittloff(at)scaquarium(dot)org.
About The South Carolina Aquarium Good Catch:
Good Catch generates awareness and leads communities in support of healthy fisheries and consumption of responsibly harvested seafood. The program pragmatically balances the health of the environment with South Carolina's demand for seafood by working with consumers and chefs, helping them make wise seafood choices to support healthy, abundant oceans. More than 115 restaurant partners have committed to serve and purchase sustainable seafood whenever possible and to avoid species that are immediately vulnerable to extinction. As a community, when we choose seafood from local, sustainably managed fisheries or dine at restaurants which do the same, we minimize our impact on the environment. Find the most up-to-date Good Catch partner list and more information on making good seafood choices each season at scaquarium.org/goodcatch.
About the South Carolina Aquarium:
The South Carolina Aquarium, Charleston's most visited attraction, features thousands of amazing aquatic animals from river otters and sharks to loggerhead turtles in more than 60 exhibits representing the rich biodiversity of South Carolina from the mountains to the sea. Dedicated to promoting education and conservation, the Aquarium also presents fabulous views of Charleston harbor and interactive exhibits and programs for visitors of all ages.
The South Carolina Aquarium, a 501(c) (3) not-for-profit organization and is open daily from 9 a.m. to 5 p.m. The Aquarium is closed Thanksgiving Day, half day Dec. 24 (open 9 a.m. to 1 p.m.) and Dec. 25. Admission prices are: Toddlers (2 and under) free; Youth (3-12) $17.95; Adults (13+) $24.95. The Aquarium plus the 4-D Theater experience is free for Toddlers, $22.95 for Children, $29.95 for Adults. The 4-D Theater experience only is $6.95 for Children and Adults, and free for Members. For more information call 843-720-1990 or visit scaquarium.org. Memberships are available by calling 843-577-FISH.
###