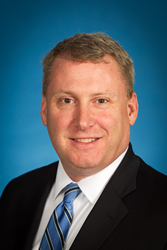 Kevin's wealth of experience in coalition building and advocacy efforts at the state and federal levels are tremendous assets for the VBC and the overall vinyl industry
Washington, DC (PRWEB) January 12, 2015
The Vinyl Building Council (VBC), a self-funded business council of the Vinyl Institute (VI), welcomes Kevin Koonce as the group's new Executive Director. Mr. Koonce will oversee the VBC's strategic direction as the council coordinates the vinyl industry's federal and state advocacy in the building and construction sectors.
Mr. Koonce brings two decades experience in Washington, in both the public and private sectors. Most recently, he was Vice President of Government Affairs for the Council of the North American Insulation Manufacturers Association (CNAIMA) where he was the first person to represent all the various insulation technologies before Congress and the Administration. In this capacity he was responsible for branding CNAIMA as the pro-business energy efficiency association in Washington, while creating and maintaining key non-traditional allies on and off Capitol Hill. Prior to this position, Mr. Koonce served as Vice President of the American International Automobile Dealers Association (AIADA), and as Legislative Director and Counsel to U.S. Senator Judd Gregg (R-NH).
"I am excited to be a part of this dynamic and growing industry and to help make the VBC both a source and a resource for policy makers at the federal and state levels. VBC has already made huge strides in engaging broader segments of the vinyl industry in our combined interests and I believe the recent successful collaborative efforts in North Carolina and Ohio are just the beginning of what the industry can accomplish when we are working together on behalf of the industry," noted Koonce.
"Kevin's wealth of experience in coalition building and advocacy efforts at the state and federal levels, as well as his knowledge in the building and construction sector, are tremendous assets for the VBC and the overall vinyl industry," said VI President Dick Doyle. "Kevin will build on the VBC's efforts to bring together all sectors of the vinyl industry to advance our efforts for open and fair competition in both water infrastructure projects and green building rating systems, and promote the energy-efficient and life cycle benefits of vinyl building applications."
About the Vinyl Building Council:
The Vinyl Building Council, founded in 2013, is a self-funded business council of the Vinyl Institute. The VBC services to champion the use of vinyl building products in North American building and construction applications, by promoting their economic, environmental and societal benefits through the collective advocacy of the vinyl value chain. For more information visit VinylBuildingCouncil.org