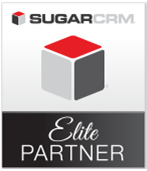 "We're very proud of receiving Elite Partner status; our team has a tremendous focus on setting challenging goals for year-over-year growth," - BrainSell President Jim Ward
Topsfield, MA (PRWEB) January 12, 2015
BrainSell Technologies (http://www.brainsell.net), a leading enterprise-level CRM reseller and consultant, has been named to SugarCRM's upper echelon of partner endorsement. As a top provider of Sugar, BrainSell has used their processed-based approach to more than double the incoming revenue from Sugar and surrounding services. As a proud Elite Partner, BrainSell will continue to leverage their continued approach of tactical marketing assets with their ongoing search for new acquisitions.
To become a SugarCRM Elite Partner, companies must surpass the net annual revenue quota set by Sugar, while maintaining all-important staff training requirements. Elite Partners have completed these training requirements on all three phases of production – Sales, Administration and Development.
BrainSell's talented team of certified consultants is led by their President, Jim Ward. When Ward founded BrainSell In 1994, his goal was to give businesses the insights and tools needed to thrive. The Elite Partner certification helps to reflect BrainSell's goal.
"We're very proud of receiving Elite Partner status; our team has a tremendous focus on setting challenging goals for year-over-year growth," said Ward. "We actually grew our Sugar-based business 100 percent year-over-year for the third consecutive year, so I'd say our team is accepting the challenge. Even more importantly, we're aligning customers with the best fit solution based on their specific needs."
SugarCRM has also grown tremendously as an organization this past year. SugarCRM has touted itself as the fastest growing CRM over the course of the last two years, and has no plans to let its foot off the gas pedal as an organization. Salesforce.com - one of Sugar's top competitors - is being compared to SugarCRM more and more frequently. Forbes published an article in June, 2014 titled, "SugarCRM: Should Salesforce.com Be Worried?" which has been viewed by almost 10,000 of Forbes' online readers.
BrainSell is hosting a webinar comparing Sugar to Salesforce on January 21st, 2015, 2:00 pm – 2:45 pm EST. The webinar is titled, "Salesforce vs. Sugar – Epic Comparison Webinar," which can be joined at this link below:
http://nrforms.brainsell.net/Salesforce_vs_SugarCRM_Webinar_January_21st
While Sugar is not the only product in BrainSell's arsenal, it is rapidly becoming one of their most focused product offerings. In July, 2014, BrainSell successfully launched BrainLink Integration – A fully bi-directional synchronization between SugarCRM and Microsoft Outlook. BrainLink has played a role in bolstering the record Sugar sales for BrainSell. As the newest SugarCRM product line, BrainSell is the most powerful Outlook plugin for SugarCRM to date. Learn more about BrainLink and signup for a free, two-week trial at this link:
http://www.brainsell.net/blog/2014/07/sugarcrm-outlook-integration-plugin/
As part of their suite of services, BrainSell provides additional services apart from SugarCRM consulting and implementation. BrainSell is a full-service ERP consultant and has relationships with Sage 100 ERP, Sage 300 ERP, Sage 500 ERP, Sage X3 in addition to Quickbooks and now NetSuite in addition to a long line of other CRM products.
In addition to SugarCRM products, BrainSell is also certified in the implementation of these CRM and ERP offerings:

Salesforce.com
Sage CRM
Infor CRM
Microsoft Dynamics CRM
Act! CRM
Sage ERP
NetSuite