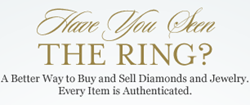 This first-of-its-kind Pre-Owned Diamond Price Lookup will help bridge the information gap between buyers and sellers and will assist both parties in achieving the best outcome.
(PRWEB) January 09, 2015
Pre-owned engagement ring marketplace, Have You Seen the Ring (HYSTR), has launched a groundbreaking Pre-Owned Diamond Price Lookup that will provide vital information for buyers and sellers of pre-owned engagement rings.
While sellers previously had to rely on the opinion of a local jeweler for the value of their pre-owned diamond, they will now have access to greater information about what the stone is worth to an independent buyer. This tool will enable a seller to enter the specifications of their stone, including the carat weight, color, clarity and shape and the details of the ring setting and will provide an estimated resale value.
For a buyer looking to save money with a pre-owned diamond, the Pre-Owned Diamond Price Lookup will serve as an informational guide on what pre-owned stones should sell for and will assist in the negotiation process.
According to HYSTR CEO Philip Johnson, "this first-of-its-kind Pre-Owned Diamond Price Lookup will help bridge the information gap between buyers and sellers and will assist both parties in achieving the best outcome. In the same way that Kelly Blue Book and sites like Zillow provide information to buyers and sellers of cars and homes, respectively, HYSTR's tool will increase the transparency of this often-confusing market. HYSTR aims to provide a superior customer experience and this tool is an important resource for buyers and sellers alike."