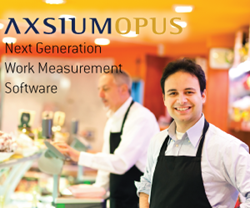 Paul Tucker, Axsium Group, Whether you've worked with labor standards for decades or are new to the process, Opus provides a robust platform to develop or evolve the labor model. It takes an innovative approach to managing the labor model,
New York, New York (PRWEB) January 12, 2015
At #NRF15, Axsium Group today announced the release of Opus, an easy-to-use, cloud-based work measurement platform. Built atop decades of experience delivering accurate and sustainable labor standards through store-specific labor models for the world's leading retailers, Opus represents a huge shift for the work measurement software community.
Retailers have historically had to depend on a series of fragmented work measurement tools to create their labor models. They might have a tool for building labor standards, then another for evaluating them and a myriad of spreadsheets in between, making it very difficult to determine if they had the right amount of labor. Opus completely eliminates this challenge taking all of those different elements and giving retailers one powerful tool to truly understand how much labor is necessary by store and by department.
News Facts:

Create what-if scenarios to determine quickly how much labor is required to make new promotions successful
Secure, reliable, cloud-based solution
Predetermined Motion-Time System
Easily import your existing labor standards, whether MTM or MOST
Includes a complete database of industry standards out of the box
Innovative user interface provides a highly intuitive navigational experience
Supporting Quotes:
Paul Tucker, managing director, Axsium Group:
"We are excited about Opus. For years, retailers have been asking about the future of work measurement, and now it's here. Whether you've worked with labor standards for decades or are new to the process, Opus provides a robust platform to develop or evolve the labor model. It's easy to use and takes an innovative approach to managing the labor model."
About Axsium Group
Axsium Group helps organizations around the world improve their performance by maximizing the productivity of their people. We do this by providing innovative and insightful consulting services focused in three areas. First, we help our clients establish a realistic strategy and roadmap to reach their people-related goals. Second, we focus on streamlining and defining new processes to improve the way people work, their productivity and their impact on their organization. And third, we implement and support technology that help all levels of the organization achieve their objectives. http://www.axsiumgroup.com