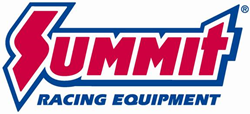 Tallmadge, OH (PRWEB) January 16, 2015
Aeromotive's new Dual Phantom Fuel System is now available at Summit Racing. Combining two Aeromotive 340 LPH Stealth Fuel Pumps, the Dual Phantom Fuel System can easily handle the fueling needs of engines making serious horsepower. It delivers an incredible 680 LPH of fuel at a rock-solid 90 PSI.
Here's a breakdown of specific setups:

1,400 horsepower: EFI, forced induction
1,700 horsepower: EFI, naturally aspirated
1,700 horsepower: carbureted, forced induction
2,000 horsepower: carbureted, naturally aspirated
The unique design of Aeromotive's Dual Phantom Fuel System includes separate electrical bulkheads, which is a fancy way of saying that the pumps can be wired and used independently. That allows the driver to control the amount of fuel being delivered at any given time, reducing the return fuel volume and ultimately lowering the overall fuel temperature. That mitigates vapor lock and fuel cavitation.
One pump can even be configured as a redundant backup, perfect for off roaders and endurance racers. And, since Aeromotive's Dual Phantom System uses two smaller pumps instead of a single big one, it is noticeably quieter than comparable systems.
The pumps are housed in a large capacity baffle designed to reduce fuel slosh. The pump assembly is attached to a black anodized aluminum top hat with four integrated ORB-06 ports for supply, return, and venting. Each Stealth Pump has its own pre-pump filter to guard against damage from fuel contaminants. The Aeromotive Dual Phantom Fuel System is designed to retrofit into virtually any stock tank, with no welding or significant fabrication required. Installation brackets and hardware are included.
See the Aeromotive Dual Phantom Fuel System at Summit Racing
Summit Racing Equipment
http://www.SummitRacing.com
1-800-230-3030