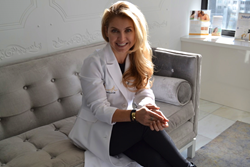 I believe having this app to alert the wearer the UV danger; they would actually see how much actual sun they are truly absorbing.
New York, NY (PRWEB) January 14, 2015
Russak Dermatology Clinic is the first practice in New York City to introduce the JUNE bracelet. June comprises a "jewel" containing UV sensors, which can be worn as a bracelet or a brooch, that measures sun exposure. The UV sensors are connected to your smart phone through an app, which advises women on how to better protect their skin on a daily basis from the effects of the sun. "We are thrilled to offer this sun savvy gadget to our patients. This technology exhibits the future in sun protection," says Dr. Russak.
It's a known fact; sun exposure can cause sunburn and lead to premature skin aging, even on overcast days. The prestigious French jewelry designer, Camille Toupet, designed the "smart bracelet", which is meant to look more like a fashion statement than a UV tracking device. JUNE tracks UV intensity in real-time and the total sun exposure absorbed by the user's skin throughout the day. The App also features a summary of time spent in the sun allowing the user to see when the UV rays' impact on the skin was most intense during the day. JUNE syncs to your smartphone app, which calculates the suggested maximum daily exposure and notifies the uses when to protect their skin. The App determines the recommended sun protection for their skin type such as applying SPF, putting on a hat, wearing sun glasses or seeking shade. "This technology is great for vacation to everyday use. New Yorkers tend to believe they don't need to wear SPF all year long. They feel that the 30 minutes they spend walking to and from the subway, out to lunch break, running errands etc. can't do much harm. This device can display their daily-accumulated sun exposure and how to protect themselves accordingly. I believe having this app to alert the wearer the UV danger; they would actually see how much actual sun they are truly absorbing," says Dr. Russak. The JUNE bracelet is basically that constant sun protection advice throughout your day.
According to The American Academy of Dermatology (AAD), current estimates are that one in five Americans will develop skin cancer in their lifetime. Melanoma, the deadliest form of skin cancer, is currently the most common form of cancer for young adults 25-29 years old, and the second most common form of cancer for adolescents and young adults 15-29 years old. The major risk factor for skin cancer is exposure to ultraviolet light. According to the AAD, avoiding the risk factor alone could prevent more than 3 million cases of skin cancer every year. In 2010, new research found that daily sunscreen use cut the incidence of melanoma in half. "Knowledge is power. In this case, knowledge and technology can and will save your life."
About Julie E. Russak, M.D.
Dr. Russak is a board-certified dermatologist, a Fellow of the American Academy of Dermatology, a member of the American Society of Dermatologic Surgery and founder of Russak Dermatology Clinic. She graduated with honors from New York University School of Medicine and completed her dermatology residency at the Dartmouth Hitchcock Medical Center, where she served as chief resident. Dr. Russak completed an Oncology Melanoma Fellowship with world-renowned melanoma expert Darrell Rigel, M.D., and is the recipient of the Marianne Salzberg Award in Dermatology and the Jonas E. Salk Scholar Award. In addition to having a thriving practice, she is an assistant clinical professor at Mount Sinai Hospital, where she teaches dermatology residents and medical students.
Contact
For more information about Julie E. Russak, M.D., and Russak Dermatology Clinic, visit russakdermatology.com or follow her practice on Facebook and Twitter (@RussakDerm). To interview or make an appointment with Dr. Russak, contact Juliet Cavallaro at juliet(at)russakdermatology(dot)com or (646) 873-7546.