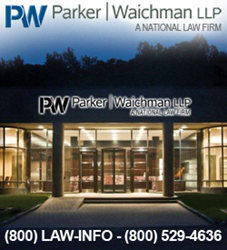 "Parker Waichman LLP is troubled by the trend of allegedly defective motor vehicles being released to the public, as well as automakers' moves to delay advising federal regulators about these defects," said Gary Falkowitz, Managing Attorney
Port Washington, New York (PRWEB) January 12, 2015
Parker Waichman LLP, a national law firm dedicated to protecting the rights of consumers, comments that automaker, Honda Motor Co., has been fined $70 million dollars for not reporting deaths to federal regulators, according to a January 8, 2015 report by The LA Times.
The National Highway Traffic Safety Administration (NHTSA) fine of $70 million is the maximum allowable fine and was levied for Honda failing to report deaths and injuries associated with its vehicles in a timely matter. The fine is the largest ever levied by a safety agency on an automaker and is comprised of a fine Honda paid of $35 million for unreported death and injury claims and $35 million paid for failing to report warranty and service claims that might be indicative of defects, according to The LA Times report.
In late 2014, Honda acknowledged that it neglected to advise the NHTSA regarding 1,729 incidents that involved deaths or injuries in its vehicles over a 10-year period. The information should have been submitted as "Early Warning" reports, which are used by safety regulators to identify serious, dangerous defects. According to The LA Times, the NHTSA is becoming more stringent with enforcement actions after it was criticized by Congress for its failure to detect safety defects sooner, in particular, regarding deadly ignition switches in General Motors automobiles.
In an action brought against General Motors LLC, a New York federal judge recently remanded a lawsuit brought by California district attorney Tony Rackauckas against GM back to state court. The lawsuit, brought over GM's ignition switch defect, was remanded after the Court agreed with the prosecuting attorney that the matter was exempt from removal as a so-called "police-power action." The case is California v. General Motors LLC, case number 1:14-cv-07787; the multidistrict litigation (MDL) is In re: General Motors LLC Ignition Switch Litigation, case number 1:14-md-02543. Both cases are in the U.S. District Court for the Southern District of New York.
Approximately $10 billion in claims were filed against GM in case number 1:14-md-02543, which includes two consolidated New York federal actions. One of these includes a class action lawsuit.
"Parker Waichman LLP is troubled by the trend of allegedly defective motor vehicles being released to the public, as well as automakers' moves to delay advising federal regulators about these defects," said Gary Falkowitz, Managing Attorney at Parker Waichman LLP. "Our firm is available to offer free legal consultations to consumers who may have been injured due to a defective motor vehicle."
For more information, please visit the firm's http:// Defective Consumer Products page at yourlawyer.com. Free case evaluations are also available by calling 1(800) LAW-INFO (1-800-529-4636).