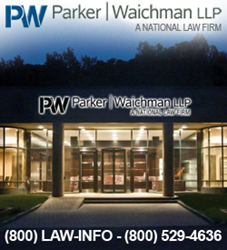 "Thousands of women undergo minimally invasive surgeries for hysterectomy or uterine fibroid removal annually. These women are often unaware that use of power morcellators during their procedures may spread a hidden, aggressive tumor,"
Port Washington, New York (PRWEB) January 13, 2015
Parker Waichman LLP, a national law firm committed to fighting for victims of defective drugs and medical devices, comments on a recent study involving tissue that had been removed during surgery involving the use of a morcellator device during hysterectomy (uterine removal). The research appears online in the December 11, 2014 issue of The American Journal of Obstetrics and Gynecology. (http://www.ajog.org/article/S0002-9378%2814%2902379-5/abstract)
The researchers reviewed tissue excised from 941 women who underwent a hysterectomy with power morcellation; 10 (1.1 percent) were diagnosed with a uterine sarcoma or parasitic myoma. The incidence of uterine sarcomas was 6 of 941, or 0.6 percent, and was not seen to have been associated with any prior factors. Of the 6 women, 3 received a diagnoses of sarcoma on initial pathologic evaluation of the morcellated tissue; 3 patients received a delayed sarcoma diagnosis, with benign disease at the time of the surgery. Each of the six women underwent hysterectomy due to fibroid tumors, according to The American Journal of Obstetrics and Gynecology report.
The http:// U.S. Food and Drug Administration (FDA) issued an Updated Safety Communication on November 24, 2014 indicating that morcellator tools may spread undetected cancer, specifically uterine sarcoma, when used in laparoscopic (minimally invasive) uterine surgery to treat fibroids. Power morcellators are medical tools that cut tissue into smaller pieces for easier removal through tiny incisions during laparoscopic surgery. The agency estimates that 1 in 350 women who under hysterectomy or myomectomy (fibroid removal) has a hidden uterine cancer that may be spread through the use of power morcellators. "If laparoscopic power morcellation is performed in women with unsuspected uterine sarcoma, there is a risk that the procedure will spread the cancerous tissue within the abdomen and pelvis, significantly worsening the patient's long-term survival," the notification stated. The alert updates information from an FDA Safety Communication issued on April 17, 2014, when the agency first discouraged power morcellation use due to the risk of spreading a hidden uterine sarcoma.
In one such case, a couple brought a lawsuit over allegations that the woman's hidden, aggressive leiomyosarcoma was spread through her body by a power morcellator used during a routine laparoscopic supracervical hysterectomy procedure. The lawsuit has been filed against Richard Wolf Medical Instruments Corporation over its Wolf Power Morcellator and was brought on behalf of Sarah Salem-Robinson and her husband, Alan A. Robinson, in the Northern District of California on May 13, 2014 (Case5:14-cv-02209-PSG).
"The updated FDA notification and lawsuits such as this one emphasize the risk of spreading a hidden cancer with the use of power morcellators," said Gary Falkowitz, Managing Attorney at Parker Waichman. "As a law firm that represents numerous individuals in lawsuits over medical device injuries, we advise women to be aware of the risks associated with power morcellation during laparoscopic uterine procedures."
The FDA notification also included new contraindications and the agency indicated that morcellators should not be used in women who are peri- or post-menopausal or are candidates for en bloc tissue removal; the tools should not be used in gynecologic procedures in which a known or suspected cancerous tissue is present.
"Thousands of women undergo minimally invasive surgeries for hysterectomy or uterine fibroid removal annually. These women are often unaware that use of power morcellators during their procedures may spread a hidden, aggressive tumor," said Mr. Falkowitz. "Our firm continues to investigate cases in which power morcellators may have spread these deadly cancers."
Parker Waichman LLP offers free legal consultations to victims of injuries allegedly caused by medical devices, including morcellator devices, and injuries allegedly suffered during fibroid removal. If you or a loved one experienced injuries during a fibroid surgery that might be associated with a morcellator device, please contact the Firm at its Power Morcellator page at yourlawyer.com. Free case evaluations are also available by calling 1 800 LAW INFO (1-800-529-4636).