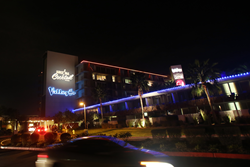 Phoenix, AZ (PRWEB) January 13, 2015
Who: Cocktail fans, spirited spirit sippers, local-loving lushes, and anyone else interested in attending this weeklong ode to Arizona's cocktail scene.
What: There's no finer time to be in Arizona than February, enjoying a little fun in the sun while the rest of the nation shivers. In fact, the only thing that could make February any finer would be, say, savoring a week-long cocktail festival overflowing with spirited soirees, poolside parties and pop-up speakeasies. Well you're in luck because the 4th annual Arizona Cocktail Week (AZCW) is bellying back up to the bar this February 14 – 21, 2015. Yes, Arizona's only statewide salute to cocktails and cocktail culture is back for another round – bigger and boozier than ever. But that's just the tip of the olive skewer when it comes to all the tasty tipples and creative concoctions on-tap for the 2015 AZCW, including a bigger and better Last Slinger Standing bartending competition and even more exciting pop-up bars at the Top Bars of America.
Highlighted once again by the Cocktail Carnival at the Hotel Valley Ho on Saturday, February 14, 2015, this poolside shindig will showcase dozens of vendor booths, carnival games, aerial pool performers and countless cocktail tastings. Then there's the return of the Southwest's premier bartending competition, the Last Slinger Standing Event, on Monday, February 16, now pitting three neighboring states against one another, as Arizona's best bartenders measure their pours against the best from Colorado and Nevada as well as the Wild Card competitor from Utah, all representing their United States Bartender's Guild (USBG) Chapter. Now hosted at the Bitter & Twisted Cocktail Parlour in downtown Phoenix.
Arizona's most spirited week will also feature an expanded lineup of both nationally renowned and locally grown mixologists leading interactive tastings and educational seminars (which are open to both industry members and the general public, and are expected to sell out again). Speaking of returning favorites, Artisanal Spirit & Cocktail Market will also be back, showcasing the finest in craft and boutique spirits, small-batch bitters, farm-fresh ingredients, demos and tastings in an appealing farmer's market-style format. In addition, guests of the festival can receive special rates courtesy of the Hotel Valley Ho, please call the hotel for rate details and mention Arizona Cocktail Week. Plus, all week long, guests can once again take advantage of tons of cocktail specials at their favorite bars and restaurants with just the AZ Cocktail Week Wristband, purchased online or at any BEVMO store. Also enjoy Imbibe & Dine cocktail and food pairing dinners at restaurants across Arizona.
When: Saturday, February 14 – Saturday, February 21, 2015
Where: Bars, lounges, restaurants, watering holes and drinking destinations across the Grand Canyon State. For a complete list, visit http://www.arizonacocktailweek.com.