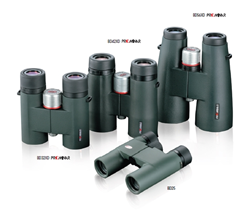 Torrance, California (PRWEB) January 12, 2015
Kowa American Corporation and its Sporting Optics division are excited to announce their attendance at the NSSF SHOT Show in Las Vegas, Nevada, at the Sands Expo Center from January 20-23, 2015.
"We look forward to attending the SHOT Show and being able to exhibit once again at the show," says Miles Takahashi, Sales Manager at Kowa. He adds, "Kowa has designed two additional binoculars to add to the BD-XD line-up which will complete the series and offer a full-range of options to our customers."
The BD-XD Series binoculars come in 32mm, 42mm, and 56mm objective lenses that are all available in 8x and 10x magnifications, and an optional 12x magnification in the 56mm model. Kowa's BD-XD Series feature PROMINAR XD extra-low dispersion lenses to produce brighter and clearer images at the highest resolution. In addition to the new BD-XD Series, Kowa plans to display their extensive line of Kowa scopes for attendees to view and test at the show, including their flagship model TSN-883 PROMINAR Pure Fluorite scope. Kowa will have samples from each line of binoculars on display, including the affordable Kowa YF binoculars series, and the professional grade Genesis series binoculars. Digiscoping accessories will also be on display, including phone adapters and the Digidapter for point and shoot cameras.
Kowa Sporting Optics can be found at booth 4461 on Level 1 of the Sands Expo Center. For more information on SHOT Show, visit http://shotshow.org/. For more information on Kowa and their products, please visit http://kowa-usa.com/Sporting-Optics/.